Kama Sutra Sponsors Sex Geek Summer Camp 2017!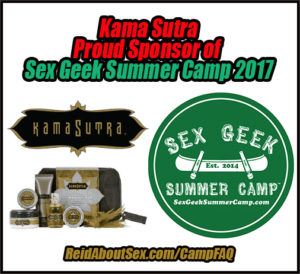 Reid: Hello it's Reid Mihalko from https://reidaboutsex.com/, creator of http://www.sexgeeksummercamp.com/ the only business retreat for sex educators out in the wilds of the woods, an actual summer camp, a sleepaway summer camp for sex educators to learn better business practices so that they can reach more people and bring them the information that they need around sexual health, pleasure, help them lessen their shame, educate and empower themselves.
And I just want to say thank you to one of our amazing sponsors for this year's Sex Geek Summer Camp – the wonderful people and the amazing products at Kama Sutra which you can check out at https://kamasutra.com/. They sent us boxes full of amazing sex toys, massage oil, massage candles and our sex educators, our campers couldn't wait to descend upon all this amazing product like little piranhas and just whisk them away back to their tents and to their cabins to try them, to test drive them, to check them out and so I'm gonna leave some some URL's and links below so that you can check out the reviews from our campers on these unbelievably great products from a really really great company that's been around for a long long time. And I just want to say thank you again Kama Sutra for your generosity, for the thoughtfulness and the ingenuity that you put into your products and for sticking around so long and talking to so many different people to see the kinds of needs that men and women and couples have in the bedroom and creating great product for them and giving us the chance to have a camp like this exists so that more sex educators can get better business practices so that we can reach more people, have longer careers and and spout the gospel of the great sex positive companies in our country and around the world that help make people have the opportunity for more pleasure in bed which is not a small feat given how negative the world can be around sex and pleasure.
So if you're looking for some great product, please check out https://kamasutra.com/ and https://kamasutra.com/ I look forward to bringing you into the woods, into the wilds of summer camp another time so please check out http://www.sexgeeksummercamp.com/ if you're an educator looking to increase your business savvy and then you can come hang out with the fine folks of Kama Sutra and have some fun with us.
Thank you so much, everyone, and check out those URL's below and I'll see you again next year at Sex Geek Summer Camp. Bye.