Don't become the weak link in your chain of promotions… Learn how Reid promotes things last minute

and

on-the-cheap !
You've got a great workshop or event or product but no budget to promote it… You're running behind schedule on promoting whatever fantastic new thing you're up to, but need to get the word out to as many people as you can as quickly as you can… What do you do?
If either of these scenarios sound familiar to you, join sex and relationship expert, Reid Mihalko of ReidAboutSex.com for this 2-part, downloadable teleclass as he shares his best practices, techniques, tips and tricks for leveraging today's New Media, Social Networks, and your own communities and client bases to get the word out and get people registering!
Download the Calls and Be Listening in Minutes!

Note: This very teleclass is an example of Reid putting his know-how to use! These two, downloadable teleclasses were recorded the very day Reid launched an early-bird special for a conference he was running…  For you marketing geeks out there, "listen-in" over Reid's shoulder to see exactly what he's doing with his emails, FB posts, and Tweets for an actual promotional launch!
Download and Listen… From anywhere! And listen to them over and over! Register to receive your Download Links!
Cost: Only $20 – and your money back if not satisfied!

Let Reid help you take your promotions to the next level by sharing with you exactly what he does that allows him to be as prolific and effective as he is…
In these two, 60-minute calls with Q&A from the Callers who joined Reid live, we will cover…
CALL #1:
Five things you MUST do to promote things last-minute and on a boot-strap budget!
Where to put your energy to create the best "bang-for-your-buck" when using New Media and Social Networking
To Tweet, or not to Tweet?
The value of Cut and Paste!
How to leverage Facebook…
What is HootSuite and why Reid thinks you should be using it!
CALL #2:
Three things you can do today to increase your promotions
Why doing this half-assed is better than getting it "polished" and "perfect"
How to get most of your promotions and postings done for free!
How to write copy and Tweets and FB posts that get your events noticed
Ways to figure out if what you're doing is a "good idea" or a waste of your time!
When to spend money on promotions and when not too!
The unbelievable value of teleclasses and YouTube videos…
And much, much more!

HootSuite is one of the programs/services that Reid talked about on Calls 1 and 2…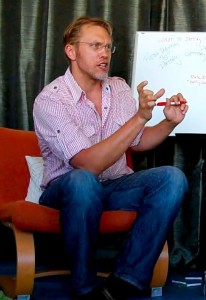 ABOUT REID: Reid Mihalko of ReidAboutSex.com helps adults create more self-esteem, self-confidence and greater health in their relationships and sex lives, no matter what their self-expression of those happen to be.
From his rated-PG/PG-13 workshops (Cuddle Party, Speed-Flirting) to the rated-R (Iron Slut Sex Educator Showdown) to his explicit, NC-17 rated, Show-N-Tell sex education workshops (where audiences get to watch, take notes, and ask questions), Reid's workshops have been attended by close to 30,000 individuals from myriad walks of life, orientations, relationship styles, countries and religions. Known for his charisma, wit and emphasis on integrity, Reid travels the country teaching, coaching, consulting and collaborating on fulfilling his mission: Create more self-esteem, self-confidence and health for adults in and out of the bedroom.
Reid has been a featured speaker at dozens of conferences on relationships and sexuality and is a sought-after presenter and teacher at colleges and sex positive stores across the country.
Reid has been a writer and producer on a number of films and television projects about sex and relationships, and appears regularly in the media. He has also appeared on the Emmy award-winning talk show Montel, Fox News, VH1's Scott Baio is 45 and Single, Showtime's Penn & Teller's Bulls**t!, Canada's The Sex Files and SexTV, and the short-lived Life & Style, on NPR, Sirius' Maxim Radio and Cosmo Radio, and in Marie Claire, GQ, Details, People, Newsweek and The National Enquirer, as well as media across the globe in thirteen countries and at least seven languages.
Follow Reid twittering as @ReidAboutSex.