Move over Band Camp… It's time for Sex Camp!
Remember in the movie American Pie when Alyson Hannigan's character talks about "Band Camp?" Did you know there is a Sex Camp!
It's called FetFest, and this year, Reid's gonna be there… And he's building a village of Sex Geeks to rule them all!
End your Summer on a sex geeky high note by joining Reid, August 31 thru Sept 3rd for FetFest2012 and camp at SEX GEEK Village!


Type in Reid's "SEXGEEK" code and
receive $10-off registration


and


a personal "Reid Gift"
when you show up at FetFest2012!
End your Summer with a sexy geeky splash by attending the VERY ADULT, private, Sex-Positive, cross-polination community event of the year! And, while you're having the time of your life: Camp in Reid's very own SEX GEEK Village surrounded by like-minded Sex Geeks! From shy nerds to outrageous LARPers, from Safer Sex'irrati to kinksters to curious newbies, from tech to techno, and every thing geeky in between!
From the FetFest site (NSFW, btw): FetFest is going to be the can't miss event of 2012! Why not come out and party, learn and play with your FetLife friends list at the original and best Sex Positive and Kink Festival??? Whether you opt for a cabin, tent, RV or hotel, you'll get to enjoy a world class education program, one of the best vending areas ever assembled and over 70,000 Sq Ft of Indoor/Outdoor Dungeon and Educational Spaces! Who doesn't want to play under the stars with like-minded Sex Geeks?
What Kind of Sex Geek are YOU?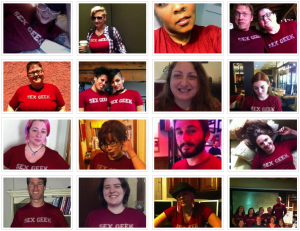 When: Aug 31st thru Sept 3rd – Day passes available!
Where: In the vicinity of Aberdeen, Maryland
Cost and Registration: HERE (NSFW)!

Save $10-off Registration and secure your Village placement with Reid when you use Reid's "SEXGEEK" code at registration!

FetFest2012 FAQ: HERE!