Taking the "Ow" out of Blowjob was never more simple, nor more fun!
If you…
Want to leave your insecurities behind and master the craft of fellatio…
Thrill at the satisfaction of a job well done…
Appreciate the oral arts…
Want nothing more than your lovers squirming in their seats and screaming in pleasure…
Let sex and relationship expert Reid Mihalko of ReidAboutSex.com show you how to use your mouth, hands, and more to give mind-blowing blowjobs.
In this class with plenty of room for Q&A, you will learn:
Male anatomy from tip to taint!
Reid's best tips and tricks for using your hands and other body parts to up the thrill…
Reid's "the slow jerk" technique…
Things to do when you have a strong gag-reflex (all is not lost, folks!) and

how to deepthroat

…
How to use pressure and body-leverage to augment your "blackbelt" fellatio skills!
Plus a few other sexy secrets that are sure to have them begging for more!
This class is opened for all orientations, relationship statuses, genders and levels of experience! Make Steak And a Blowjob Day memorable this year!
Date: Thurs Oct 2nd, 2014 – Blow Jobs And Beyond!
Time: 7:30-9pm
Cost: $26.75 per person; $48.15 per couple
Tickets: selfservetoys.com/events/bjs-beyond-reid-mihalko/
Where: Self Serve, 3904B Central Ave SE, Albuquerque, NM 87108 – Phone: 505-265-5815 – Go HERE to for more info!
Curious about booking Reid for a private class? Go HERE!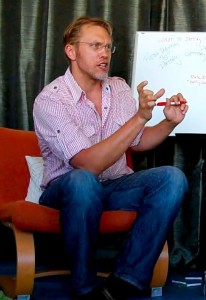 ABOUT REID: Reid Mihalko of ReidAboutSex.com helps adults create more self-esteem, self-confidence and greater health in their relationships and sex lives, no matter what their self-expression of those happen to be.
Reid has appeared on Oprah's Our America With Lisa Ling on OWN, the Emmy award-winning talk show Montel, Dr. Phil's The Doctors on CBS, Bravo's Miss Advised, Fox News, in Newsweek, Seventeen, GQ, People, Details, Marie Claire, The National Enquirer, The Washington Post, on VH1's Scott Baio is 45 and Single, Showtime's Penn & Teller's Bulls**t!, Canada's The Sex Files and SexTV, and the short-lived Life & Style, on NPR, Sirius' Maxim Radio, Playboy Radio and Cosmo Radio, and in thirteen countries and at least seven languages.
To date, Reid's workshops and lectures have been attended by close to 40,000 men and women. Reid has been a featured speaker and keynote at dozens of conferences on relationships and sexuality and is a sought-after presenter and teacher at colleges and sex positive organizations across the country. Reid has also been a writer, producer and behind the scenes consultant on a number of films and television projects about sex and relationships
Follow Reid twittering as @ReidAboutSex. Like and subscribe to his Facebook page, Facebook.com/ReidAboutSex!