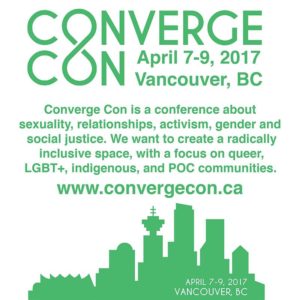 Join Reid at Converge Con: Where Sexuality, Activism, and Social Justice Converge
Catch all 4 of Reid's workshop at Converge Con 2017
Converge Con is a conference that originated with a desire to build sex positive communities, and start a dialogue around sexuality, relationships and activism with the goal of creating a radically inclusive space with a focus on queer, LGBT+, indigenous, and POC communities.
There will be over 30 speakers from across North America. Converge Con's goal is to create a radically inclusive safe space for all people with an invested interest in creating a sex positive future. We want to focus on queer, LGBT+, indigenous, POC communities, and bring people together to spark new conversations.
Here are 4 opportunities to see Reid in action at 2017's Converge Con:
Pre-Con: How To Host Your Own Kick-Ass Play Party
Using Contests and Social Media To Raise Awareness and Promo

te Participation
Creating Your Safer Sex Elevator Speech
Sex Without Upset: Learn to Navigate Complex Sexual Situations Like a Rockstar and Leave Everyone Better Than You Found Them
Date: April 7-9, 2017
Time: Pre-Con workshop Apr 7, 2pm-5pm: Full schedule to be posted soon
Tickets: Get $50 off regular registration before Feb 15! Info and Purchase HERE!
Where: 711 W. Broadway, Vancouver, BC, Canada
April 7, 2pm-5pm-Pre:Con-How to Host Your Own Kick-Ass Play Party with 
Reid

 Mihalko
Ever thought about throwing your own erotic gathering, but not sure whom to invite or what mistakes to avoid?
Maybe you already tried hosting one, but ran into bumpy starts and awkward situations where either nothing happened or everything crashed and burned horribly?
Perhaps you've successfully thrown an orgy, and now you want to take your play parties from good to mind-blowingly awesome?
If you've ever wondered what the best practices for throwing a kick-ass play party are (as well as how to avoid the most common drama-creating, mood-killing pitfalls), then join "America's favorite sex geek," sex and relationship educator Reid Mihalko of ReidAboutSex.com for a 3 hour "bootcamp" as he shares his unique approach and design for hosting sex-positive, consent-based play parties.
Having run over 250 play parties attended by more than 3000 people, Reidwill break down these essential elements required for hosting a smooth, fun, community strengthening play party event:
In this humorous and informative workshop, Reid will touch upon:
What "safe space" means when applied to play parties
The biggest mistakes and how to avoid them so you don't have to learn the hard way and hurt your friends
How to build a strong event container that will make hosting play parties easier for everyone involved
Assessment techniques and protocols that will make inviting "the right" people a no-brainer
Techniques that will help you run a play party so smooth that you'll be able to frolic, too!
Ways to role modeling healthy, empowering community behaviors around consent and communication
What to do when things go wrong and how to help your community clean up it's messes and mistakes
There's only so much we can cover in 3 hours, but what we will cover will help you and your attendees have more fun, connection, and sex with greater peace of mind, less effort, and waaaaaay less drama.
Date: April 7, 2017
Time: 2pm-5pm
Tickets: $50 if purchased before Feb 15! $65 after Feb 15! Info and Purchase HERE! 
Where: 711 W. Broadway, Vancouver, BC, Canada
VIEW AND SHARE THE FACEBOOK PRECON EVENT HERE!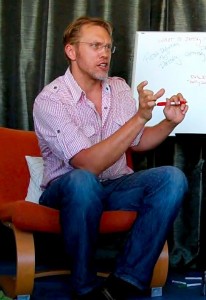 ABOUT REID: Reid Mihalko of ReidAboutSex.com helps adults create more self-esteem, self-confidence and greater health in their relationships and sex lives, no matter what their self-expression of those happen to be.
Reid has appeared on Oprah's Our America With Lisa Ling on OWN, the Emmy award-winning talk show Montel, Dr. Phil's The Doctors on CBS, Bravo's Miss Advised, Fox News, in Newsweek, Seventeen, GQ, People, Details, Marie Claire, The National Enquirer, The Washington Post, on VH1's Scott Baio is 45 and Single, Showtime's Penn & Teller's Bulls**t!, Canada's The Sex Files and SexTV, and the short-lived Life & Style, on NPR, Sirius' Maxim Radio, Playboy Radio and Cosmo Radio, and in thirteen countries and at least seven languages.
To date, Reid's workshops and lectures have been attended by close to 40,000 men and women. Reid has been a featured speaker and keynote at dozens of conferences on relationships and sexuality and is a sought-after presenter and teacher at colleges and sex positive organizations across the country. Reid has also been a writer, producer and behind the scenes consultant on a number of films and television projects about sex and relationships
Follow Reid twittering as @ReidAboutSex. Like and subscribe to his Facebook page, Facebook.com/ReidAboutSex!