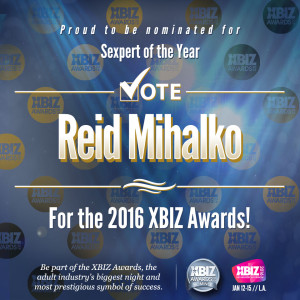 I've been nominated for 2 XBIZ awards!! Vote for me for Sexpert of the Year
I'm super excited to announce that I've been nominated for 'Sexpert of the Year' AND 'Best Non-Sex Performance' for the 2016 XBIZ Awards!
That's right ladies and gents and non-binary identified and gender non-conforming peeps…
I've been nominated in TWO categories! Squeee! And guess what? You can vote for me!
Hurry… Voting ends Sunday Dec 6th at midnight!

Congrats to all my fellow nominees! Let the sexy games begin!!
Fyi, the live awards event is scheduled for Jan 15, 2016, at the JW Marriott in Los Angeles if you're curious.
ABOUT XBIZ: XBIZ™ is the adult industry's leading publisher of business news and information, providing up-to-the-minute coverage of the industry at XBIZ.com and in three trade publications – XBIZ World for the digital media market, XBIZ Premiere for the retail market and XBIZ Sensuals for the intimate products market. In addition, XBIZ hosts five annual trade events including the industry's top awards show of the year, the XBIZ Awards. XBIZ is frequently cited in the media for coverage of the industry and has been published in CNN, Fox News, Newsweek, MSNBC, Forbes, The Wall Street Journal, Wired, CNET, ABC, USA Today and Los Angeles Times among others.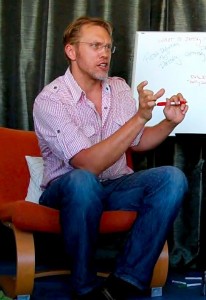 ABOUT REID MIHALKO: America's favorite sex geek, Reid Mihalko of ReidAboutSex.com and Relationship10x.com  helps adults and college students create more self-esteem, self-confidence and greater health in their relationships and sex lives using an inspiring mixture of humor, keen insight, and comprehensive sexual health information.
Reid frequently speaks at colleges and universities on sexual assault prevention and healthy relationship skills, and regularly appears in the media sharing his views on consent, dating, and shame-free sexuality.
Reid's workshops and college lectures have been attended by close to 50,000 men and women. He has appeared in media such as Oprah's Our America With Lisa Ling on OWN, the Emmy award-winning talk show Montel, Dr. Phil's The Doctors on CBS, Bravo's Miss Advised, Fox News, in Newsweek, Seventeen, GQ, The Washington Post, and in thirteen countries and at least seven languages.
Reid is also founder of Sex Geek Summer Camp and Sex Geek School for Gifted Sex Geeks which help sex educators learn valuable business skills that allow them to reach more people, transform move lives, and make a better living as sexperts.
Follow Reid on Twitter and Facebook and YouTube.