What are you waiting for? It's about time you considered nourishing yourself!
Do you spend more time taking care of others than you do taking care of yourself? Do you have a hard time saying No or speaking up for yourself? Are feelings of guilt holding you back from asking for what you want? Do you think that you dont deserve to be taken care of or that your self-worth is measured by how happy you can make others?
Join sexual civil rights lawyer and TED Talk speaker, Diana Adams, and world-renowned sex educator Reid Mihalko for a frank, humorous, and enlightening series of downloadable podcasts designed to give you the skills and know-how to receive more, assert and nourish yourself in all areas of your life, especially relationships!
Complete call descriptions below…
Teleclass #1: Six Tools For Women Who Give Too Much
Things You Can Begin Doing Today to Give Less and Get More!
with Diana Adams, Esq., and Reid Mihalko
Teleclass #2: Asking for What You Want
Getting Your Needs Met In and Out of the Bedroom
With special guest expert, relationship educator Marcia Baczynski
Teleclass #3: How to Argue Like a Lawyer
Being Fearless in Difficult Conversations
With special guest expert, big-time negotiation lawyer turned feminist blogger Carlin Ross, Esq.
Teleclass #4: Feeling Great About Saying No
Communicating Guilt-free Boundaries
With special guest expert, erotic educator Dr. Betty Martin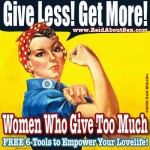 Access All Four Calls BELOW for
JUST $27! (Regularly $47, fyi! Act Now!)

Complete breakdowns for Calls 1 thru 4…
Teleclass #1: Six Tools For Women Who Give Too Much


Things You Can Begin Doing Today to Give Less and Get More!
with Diana Adams, Esq., and Reid Mihalko
In this FREE 90-minute teleclass, Reid and Diana will launch into an overview on how women who give too much can make themselves the priority and increase their confidence!
We will go over how to:
Take care of your own needs and reclaim your sense of priority
Be compassionate for those you love without caving in
Distinguish your own needs and create powerful boundaries
Ask explicitly for what you want
Be fearless in difficult conversations and lessen feelings of guilt
Let go of relationships that aren't serving you
Support yourself and those you love in ways that invigorate and excite you!
This call is for women, their male allies, and anyone of any gender who want to support the loved ones in their lives on how to better take care of themselves. Callers who attended the teleclass when it was recorded ask questions and get honest advice from Reid and Diana.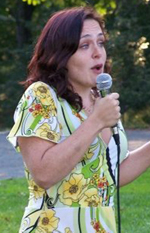 ABOUT DIANA: Diana Adams is a relationship educator and runs her own sexual civil rights law practice in New York City. She teaches workshops on effective communication, tools for healthy nonmonogamous relationships, physical self-defense, and more, and offers individual and relationship coaching.
Diana has appeared on the award-winning docuseries MTV True Life: I"™m Polyamorous, has been featured in the New York Times, the Washington Post, New York Magazine and on Current TV.
Learn more about Diana at feministoutlaw.com!

Teleclass #2: Asking for What You Want


Getting Your Needs Met In and Out of the Bedroom
with Diana Adams, Esq., Reid Mihalko and communication expert Marcia Baczynski.
Do you lie back and wait for relationships and jobs to come to you? Do you have trouble speaking up? Would you like to be more active in making your desires a reality?
If you enjoyed the first call and the overview we gave, join Diana, Reid and special relationship and communication expert Marcia Baczynski for an in-depth 90-minute teleclass devoted solely to removing the fear in asking for what you want so you can get what you deserve!
In this fun yet poignant teleclass, you will learn ways to:
Get comfortable making requests and with the possibility of hearing No.
Tap into your self-esteem and realize that you deserve to have what you want instead of always settling for less.
Learn how to be unstoppable in realizing your dreams!
You'll get to hear questions from our participants and the answers Reid, Diana and Marcia come up with, too. What are you waiting for? Adopt a "Yes means Yes" perspective on life and master asking for what you want!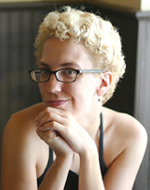 ABOUT MARCIA: Marcia Baczynski is director of relationship programming at IdealBalanceInc.com.
An extraordinarily talented workshop designer and facilitator, teacher, coach and leader who is passionate about providing the world with better tools for relationships and sexuality and empowering people to use them, Marcia landed herself in the international media spotlight as co-creator and spokesperson of the unique communication and intimacy workshop Cuddle Party.
An expert in gender dynamics, sexuality and interpersonal communication, she combines a keen analytical ability with warm personal skills to provide her clients and students with an experience of being seen, being validated, learning something new and feeling smarter for it.
In her work with couples and singles, she helps clients to identify what they want out of their relationships and how to create it. As director of relationship programming for Ideal Balance, Inc., and as co-creator of Cuddle Party, Marcia has worked with thousands of people, teaching them about boundary-setting, non-sexual intimacy, and effective interpersonal communication.
Marcia is a graduate of the University of Georgia, where she studied public relations, history and women's studies. She has been a Barbara Sher Success Team leader, a guest lecturer on sex and gender at CUNY, and featured speaker at dozens of conferences on relationships and sexuality. From a young age, Marcia has been heavily involved in volunteer work, participating in projects as diverse as the 1996 Olympic Games, HIV education and awaremess, boat-building for kids in alternative schools, and the Burning Man arts festival.

Teleclass #3: How to Argue Like a Lawyer
Being Fearless in Difficult Conversations
with Diana Adams, Esq., Reid Mihalko, and feminist blogger Carlin Ross, Esq.

Do you wish you could argue like a tenacious lawyer? Ever feel like men are better at arguing and holding their ground in a conversation? Maybe you're the kind of woman who has lots to say, but cant seem to get your point across or say things the right way when conversations get heated or animated?
Well, if you've ever kicked yourself in the pants for not holding your ground in a conversation or felt hesitant to jump into a verbal fray, this is your time to release your inner Law & Order attorney and learn how to speak with conviction!
Join sexual civil rights attorney Diana Adams, Esq., sex and relationship educator Reid Mihalko and their special tele-guest expert, big-time negotiations lawyer-turned-feminist blogger Carlin Ross for an in-depth, 90-minute teleclass on effective strategies for arguing confidently!
In this invigoratingly unique teleclass, you will learn ways to:
Make your point without having to yell
Get over your mental blocks and fears regarding arguing
Redefine arguing and passionate conversation in ways that are positive and actually increase intimacy in your relationships
Hold your intellectual ground with men, women, your bosses, and even your parents!
Make arguing a fun game instead of a relationship-ender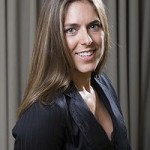 ABOUT CARLIN: Carlin Ross is a sex-positive feminist blogger and entrepreneur who has transcended her "ESQ" tagline to position herself at the forefront of male sexuality.
Ms. Ross worked with the New York State Attorney General"™s Office in their Internet and Civil Rights Bureaus before going in-house as General Counsel of an ISP which raised $1B on wall street. She left her law career to run a lifestyle brand for women: cherrybomb. The site launch was featured on the front page of the NY Times on February 24, 2004.
Carlin has interviewed sexperts such as Ian Kerner, Helen Fischer, Candida Royalle, Dr. Judy Kuriansky, and Dr. Barbara Bartlik for the Sex Herald. And she has written/produced/directed several erotic features for Playgirl TV in addition to an original DVD feature.
She has appeared on The Sharon Osbourne Show, CNN, MSNBC, and Dateline and radio shows including Afternoon Advice on Playboy Radio.
Most recently, Carlin has partnered with Betty Dodson and created a sexuality portal for women under the brand Dodson and Ross. Together, they're launching an online video series "Basic Sex Skills: The New Porn."

Teleclass #4: Feeling Great About Saying No
Communicating Guilt-free Boundaries
With Diana Adams, Esq., Reid Mihalko, and Erotic Educator Dr. Betty Martin
Do you have difficulty in saying no? Wish you were better at enforcing your boundaries? Do you avoid rejecting people and, in doing so, often end up participating in things you'd rather not? Does feeling guilty often influence your decision-making?
Many women feel they can't say no because they care too much or don't want to hurt the other person's feelings. But the inability to say No powerfully is often about fear and insecurity. And while we may know that the most considerate thing we can do is give someone an honest and compassionate No, we struggle and often sell out on ourselves. The results are a wishy-washy Maybe, a lackluster No or, worse, we say Yes when we want to say No.
Join Diana Adams, Esq., Reid Mihalko and their special tele-guest, erotic educator Dr. Betty Martin for 90-minutes designed to get you feeling great about saying no!
In this, the last call of the teleseries, we will teach you how to:
Get used to saying No when it's not life-threatening so you
Use saying No as a self-esteem builder
Leave the people you say No to feeling seen and appreciated
Give a stress-free No
Find your own style and way of saying No
How to use saying No as a means to getting something youre a Yes to!
If saying No is something you've always wanted to master, or you'd love to stop feeling guilty for taking care of yourself, then you definitely don't want to miss downloading and listening to this MP3!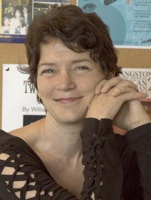 ABOUT BETTY: Dr. Betty Martin is a Chiropractor, Body Electric School trained Sacred Intimate, Certified Sexological Bodyworker, Foundations of Facilitation trainer, and a self-propelled erotic adventurer and intimacy coach.
One of those lucky people who grew up in the touchy-feely hippie years, Betty got serious and went to Chiropractic school and made touching with clear intent a career. First in therapeutics (Chiropractic, Somato-Respiratory Integration, Educational Kinesiology, Reiki, Neuro-Emotional Integration) and later in body-based erotic education (sensual massage, Taoist Erotic Massage, Kashmiri tantric massage and Sexological Bodywork), Betty has amassed close to 30 years experience as a hands-on professional.
Understanding the importance of communication in the realm of hands-on work and play, Dr. Martin has also amassed an equally impressive skill set when it comes to boundary setting, negotiation, and clear communication.
Betty has taught peer counseling, gender liberation, embodiment and empowerment, fantasy play, goddess awakening and erotic massage. She has played with contact improv dance, liberation theater, personal and group ritual, authentic movement, non-violent communication and Shaivic tantra.
Betty currently trains and certifies new facilitators for the touch and communication workshop called Cuddle Party and speaks and teaches at conferences and gatherings around the world.
Order NOW and You Can Be Listening and Learning Within Minutes! Regularly $47…

NOW JUST $27

for Calls 1, 2, 3 and 4!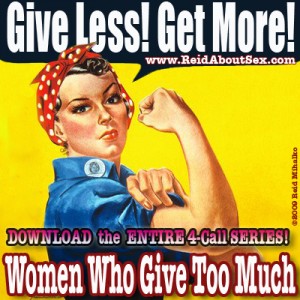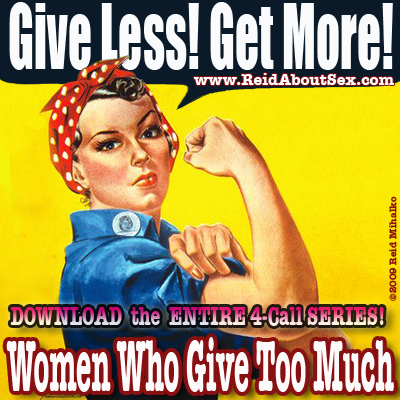 100% Money-Back Guarantee if You're Not Fully Satisfied!
I'm so certain that the advice, tools and tips on these calls are going to improve your life that Diana, Marcia, Carlin, Betty and I want to take away any reason for you to say No. So, I'm offering a FULL 100%-MONEY BACK GUARANTEE on ALL FOUR CALLS! That's right. If for any reason you aren't satisfied with the content of your experience and the price you paid for it, just ask me for a refund and I'll give you your money back, no questions asked (you can even keep the MP3s you've received as my thanks for trying something out that I created)!
Cost for Calls 1 thru 4 is usually $47. Get it NOW for just $27!
To Register:
Click Here