Reid needs your sex geeky assistance!
Help me make a commemorative Sex Geek greeting card to close out what's been an extraordinary 2012 and to blast off into 2013! I have the vision of making a card who's front consists of a collage of us all proudly displaying our Sex Geek, each in our own unique way.
If you've already gotten your nimble hands on one of my official Sex Geek tees, here's your shot at being immortalized in the anals of Sex Geek his/herstory (Giggle. I said anal)…
If you haven't gotten your tee yet, order it ASAP or borrow a friend's tee and get me a 300dpi, safe for work photo of you wearing your Sex Geek tee NOW!
More specifically, email me the following: 

Hi-res, 300 dpi picture(s) of y'all in your Sex Geek Tee (nothing pornographic, meaning SFW please!) – it can be casual or fancy, but keep it PG to R-Rated please. Thanks!
Include in your email to Reid@ReidAboutSex.com the subject line:

SEX GEEK GREETING CARD

 – It'll help me coordinate the submissions
Include your snail mail address in the email so I can send you a card this holiday season!
Include the name and website you're comfy with me posting on FB so I can post your picture on the Facebook SEX GEEK Tee photo album and properly promote your sex geek awesomesauce!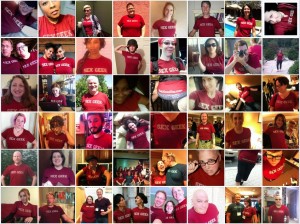 In submitting your picture to me via email, you acknowledge the following:

Your picture isn't guaranteed to be on the card – I'll try my best to include everyone, but no promises.
You acknowledge that, by sending me a photo to use, you are granting me full rights to use the photo and your image without compensation or acknowledgement.
You acknowledge that this is not a contest or a sweepstakes, and that you don't need to purchase a Sex Geek tee to have a shot of being on the greeting card – borrow a fellow sex geek's tee, snap a pic, and email it in!
Basically, by participating: You're granting me permission to use your image without photocredit so I can make the card and granting me permission to further use the picture for other, future sex geeky projects as I see fit, such as, but not limited to, posting your pic on the FB Sex Geek Tee photo album as mentioned above (I love upping the visibility of us sex geeks when I can!).
Whether or not you participate, I do want to say THANK YOUUUUU for helping increase Sex Geek visibility across the globe! YOU ROCK, and I hope your Sex Geek tee serves you well!
Questions? Email me at Reid@ReidAboutSex.com – I love hearing from ya!
We now return you to your sex geeky lives,
REiD
Ps. If you want to encourage a friend to join in on the fun, again: Either let them borrow your shirt or tell them to order one ASAP and get their picture to me stat!