Business Before Pleasure Unless Pleasure Is Your Business!
Curious about how Reid does runs his online products business?
Want to know ways you can leverage your peer relationships to increase your business?
Longing for ways to get out of the "sex ghetto" and have your offerings reach larger audiences?
Completely overwhelmed and confused by phrases like Earnings Per Click, Conversion Rates, JV Partners and Email Campaigns?
Wondering how you can make more money off of your blog and website?
For those of you working in the sex education field (or would like to), at some point you're going to want to consider launching an Affiliate Program to reward your super fans and incentivize other people to promote your products and services world-wide! However, if you're like Reid was, Affiliate Marketers might have left a bad taste in your mouth, or you worry about loosing your activist street-cred by being labeled a Capitalist sell-out, or somehow offending your fans by not offering everything for free.
Fortunately, over the last several years it's become even easier for the sex positive community to leverage online commerce in our favor and do it in a way that reaches larger audience WHILE spreading our activism, our passion, and our integrity. For the past several years, Reid's been studying and exploring various successful business models and applying them to sex education, teaching workshops, and making a living on-line. While field-testing and tinkering on his own career, Reid's also been confronting his own fears and insecurities as a business owner. The result is that it's time for Reid to share his resources and the advice and wisdom of some of his closest peers, mentors and friends. It's time for Sexpert Affiliate Day!
Date: Saturday, Feb 16th
Time: Noon to 6pm Pacific (see times below for levels of experience)
Physical Location: San Fran's Center For Sex And Culture, 1349 Mission Street, San Francisco, CA 94103
[Between 9th and 10th Streets, on the corner of Grace Street]
Webcast location: Link info upon registration and available for watching on ReidAboutSex after.
Tickets: $47 after Affiliate Signup HERE, $69 without Affiliate Signup and Day-Of At The Door.

Need a scholarship? Email Reid@ReidAboutSex.com

Please consider joining us in person, online for the webcast or by registering for the link to watch our 6-hour long seminar, Sexpert Affiliate Day, a deep dive class expanding and surpassing some of the content introduced in Sexpert Affiliate 101, taught by sex educator Reid Mihalko of ReidAboutSex.com and special guest Cathy Vartuli of TheIntimacyDojo.com.
In the 6-hours, Reid and Cathy will walk you through:
 Hours 1-2: Affiliate Marketing for beginners

Learn the ins and outs of Affiliate Programs
Why you should consider starting your own program and how it helps your peers and business
Affiliate best practices
How to know when YOU should start your own affiliate program

Hours 3-4: Sexpert Affiliate 202!


How to plan out your own product launch
How to pick an Affiliate Manager
What do to and what NOT to do with your Affiliate Partners
Best practices for payment and how to treat your affiliates like the gold that they are!

Hours 5-6: Advanced Sexpert Affiliate Know-How

How to effectively manage several affiliates at once
Making your affiliate program "evergreen"
How to fix and clean up mistakes when and if they happen
How to make your Affiliate Program congruent with your politics and inline with the tone of you and your brand
Join us for the whole day or just for the sections you need! Register online and save!
If you want to expand your sex-positive business, whatever your experience level, whatever your career area or demographic, building and maintaining great working relationships, and running and managing an excellent affiliate program take skill sets that, once mastered, can positively impact all of your relationships and your personal life.

We will have a short breaks throughout the day, but bring things to eat/drink, and a notepad or laptop 'cause we've got LOTS to cover!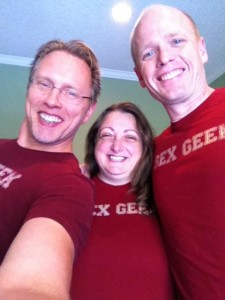 About Cathy: Cathy Vartuli is a sex positive Emotional Freedom Coach who helps people transform their traumas into their greatest strengths using love, laughter and inner guidance. She uses a practical yet intuitive approach to help people connect with their own power and guidance.
Cathy is currently Reid Mihalko's Affiliate Manager and co-produces launches at ThrivingNow.com. Since 2006, Cathy has co-produced and launched more than 20 products, worked with over 800 clients, and loves helping people learn the power of offering value and collaborative compounding when JVing with others. She is a certified AAMET Advanced EFT Practitioner, and offers a wide range of programs and services — from audio products and programs, to group and individual coaching. She has co-lead programs and products with Reid Mihalko, and created a PSA on body image with Buck Angel. Cathy has been featured on EFT Hub World Video Summit, the EFT-Universe, Living Energy Secrets, and Create Your Dream Life Summit. Cathy specializes in coaching clients who want to transform their relationship with themselves and others so they can finally move into the life they've always wanted.
In Cathy's "free time"… Having received her Bachelor's degree in International Studies from SUNY Cortland (which included one year in Bejing, China), her Masters degree in Solid State Physics from SUNY Binghamton, and her Ph.D. in Materials Science and Engineering from the University of Florida (Cathy also spent a year in Sweden through Rotary Exchange), Cathy works in major semiconductor companies doing R&D and materials characterization. Cathy currently holds 18 patents covering various analytical techniques and is a member of the Semiconductor Technology Patent Committee. To date, she has authored over 80 journal and conference papers.
Visit Cathy at TheIntimacyDojo.com and ThrivingNow.com
Follow Cathy on Twitter at @TheIntimacyDojo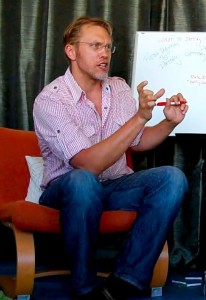 ABOUT REID: Reid Mihalko of ReidAboutSex.com helps adults create more self-esteem, self-confidence and greater health in their relationships and sex lives, no matter what their self-expression of those happen to be.
Reid has appeared on Oprah's Our America With Lisa Ling on OWN, the Emmy award-winning talk show Montel, Dr. Phil's The Doctors on CBS, Bravo's Miss Advised, Fox News, in Newsweek, Seventeen, GQ, People, Details, Marie Claire, The National Enquirer, The Washington Post, on VH1's Scott Baio is 45 and Single, Showtime's Penn & Teller's Bulls**t!, Canada's The Sex Files and SexTV, and the short-lived Life & Style, on NPR, Sirius' Maxim Radio, Playboy Radio and Cosmo Radio, and in thirteen countries and at least seven languages.
To date, Reid's workshops and lectures have been attended by close to 40,000 men and women. Reid has been a featured speaker and keynote at dozens of conferences on relationships and sexuality and is a sought-after presenter and teacher at colleges and sex positive organizations across the country. Reid has also been a writer, producer and behind the scenes consultant on a number of films and television projects about sex and relationships
Follow Reid twittering as @ReidAboutSex. Like and subscribe to his Facebook page, Facebook.com/ReidAboutSex!