Rushed For Time? Need Some "Relationship CPR" to Revive or Transform Your Love Life TODAY?
Here's my turbo-charged 1-Day Training to give your relationship some CPR and revive it! Know how that will change how you love and live for the better or your money back!
Is your relationship about to keel over and die?
Do you love reading relationship books but your partner doesn't?
Maybe they adore watching videos but you prefer going to workshops…
Want to improve your relationship and sex life but don't have the time to listen, read, watch or attend workshops for hours and hours on end?
Curious how you can transform your relationships and take them to the next level?
Join Reid Mihalko, sex and relationship expert and creator of the 6-week online course, Relationship10x, as he shares with you some of R10x's most popular and most powerful teachings in a 1-day blast of awesome-sauce: R10x Light!
Designed to appeal to the adult learning styles that you naturally gravitate towards (and the learning styles of those you love), R10x Light includes succinct, pragmatic, sage advice and skill sets that you can learn in 1-Day and implement TODAY to take your relationships to a whole new level.
Your Relationship10x Light eCourse includes:
7, powerful, 10-minute relationship training 

videos

.
Two downloadable

audio MP3

 podcasts with nearly 60-mins of sage relationship advice and tools you can listen to in the car, the office, the gym or home!
For those of you who learn best through

reading

: Transcripts of the videos & audios,

plus

worksheets, and more!

Bonus

: You're automatically entered to win Reid's quarterly Sex Geek Tee drawing, only for his best customers! (Yep! YOU could win a Sex Geek t-shirt!)

Special, Hush-Hush (Don't Tell Anyone) Bonus*

: A surprise coupon that might come in handy! (This coupon alone is worth checking R10x Light out…)
If you would like to feel more confident in love and life AND be able to show your loved ones how much you care in ways that leave them feeling delicious and grateful toward you, then you own it to yourself to check out R10x Light!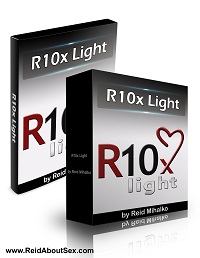 ONLY $97

for Lifetime Access to R10x Light!

R10x Light –like every Reid product– comes with
Reid's No Risk 30-Day 100% Money Back Guarantee!

Learn from Reid's products for 30-Days and if you decided you didn't get more than your money's worth in quality sex geekery, just let us know and we'll give you a FULL REFUND, no questions asked!