Pegging Grad School: Get Your PhD in Strap-On, Bend Over Your Boyfriend, Pleasure!
If you…
Are curious about strap-on play and pegging (anal penetration on a man via a strap-on harness and dildo) but have never tried it…
Already have your Masters Degree in dildos and prostate pleasure but are looking for a few advance techniques…
Trying to help a loved one who's not sure if pegging is for them, but could use some empowering, shame-free tips… 
Want to leave your loved ones stammering, "h-h-How did you do THAT?!"
Let "America's favorite sex geek," sex and relationship expert (and veteran peg'ster) Reid Mihalko of ReidAboutSex.com be your Head Dean and help you get your PhD in pegging so YOU can create great strap-on experiences that leave YOU and your lovers feeling satisfied, confident, and glowing with appreciation!
The idea of strap-on play no longer exists as something solely for lesbians and dominatrixes, or for television (Remember the Broad City episode where Abbi is presented with Jeremy's custom green dildo?!). Pegging (nods to sex columnist Dan Savage for coining the term), and the play surrounding it, can be a sexy, fun and adventurous way for men, women, and folks of all genders to explore new dynamics and sensations in the bedroom. Yet, without a game partner or a certain amount of experience and communication confidence, pegging can be a nerve-wracking adventure all but destined to end badly.
Butt- Reid and his friends are here to help!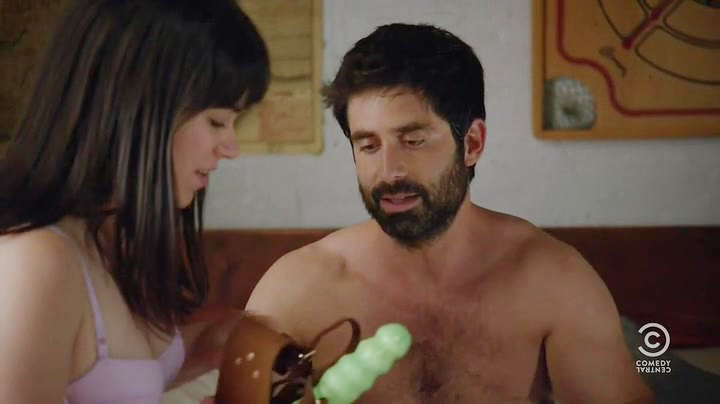 In this 2-hour, informative and humorous workshop, where you get to watch, take notes, and ask any and all your questions, you will learn:
Strap-On Basics for All Genders
Simple + Advanced techniques for fun and easy bottoming/receiving
Ways to bring up the idea of pegging without freaking out your partners!
Communication and negotiation skills that will deepen your love life…
Safer Sex protocols and hygiene tips
Special considerations when working with butts and prostates
Unique and fun positions perfect for all gendered strap-on sex
Some simple fem-dom techniques (nothing too scary, we promise!)
And much, much more!
Regardless of your gender, sexual orientation, level of experience, relationship status, or what you're packing beneath your clothes (or in your sex toy bag), this class will cover how to show yourself and your lovers how to give and receive more pleasure through pegging.
Dates:

• Nov 8th, 2017 – HOW TO TAKE YOUR CASUAL SEX SERIOUSLY
• Nov 9th, 2017 – PEGGING GRAD SCHOOL!

Time: 7:30-9:30pm
Cost:

$20 per person
Double Your Rewards: Sign up for both Casual Sex & Pegging Grad School of  & Recieve a $10 Self Serve gift card!

Early Bird Discount

for the first 7, paid signups up to two days before the class. Use promo code EB11.08.2017 to get the early bird pricing! (Act fast and get early bird pricing on BOTH workshops AND get the gift card!)

Tickets: Click workshop titles above!
Where: Self Serve, 3904B Central Ave SE, Albuquerque, NM 87108 – Phone: 505-265-5815 – Go HERE to for more info!
Whether you've been dying to explore strap-on play, just heard about pegging today, or are looking for an outrageous workshop to bring your date or friends too, Pegging Grad School with Reid and friends is sure to give you your money's worth in shame-free, Show-N-Tell sex education. Show up with your questions and leave with new-found confidence and self-esteem for your relationships and sex life!
Curious about booking Reid for a private class? Go HERE!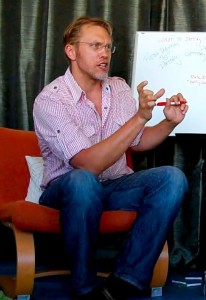 ABOUT REID: Reid Mihalko of ReidAboutSex.com helps adults create more self-esteem, self-confidence and greater health in their relationships and sex lives, no matter what their self-expression of those happen to be.
Reid has appeared on Oprah's Our America With Lisa Ling on OWN, the Emmy award-winning talk show Montel, Dr. Phil's The Doctors on CBS, Bravo's Miss Advised, Fox News, in Newsweek, Seventeen, GQ, People, Details, Marie Claire, The National Enquirer, The Washington Post, on VH1's Scott Baio is 45 and Single, Showtime's Penn & Teller's Bulls**t!, Canada's The Sex Files and SexTV, and the short-lived Life & Style, on NPR, Sirius' Maxim Radio, Playboy Radio and Cosmo Radio, and in thirteen countries and at least seven languages.
To date, Reid's workshops and lectures have been attended by close to 40,000 men and women. Reid has been a featured speaker and keynote at dozens of conferences on relationships and sexuality and is a sought-after presenter and teacher at colleges and sex positive organizations across the country. Reid has also been a writer, producer and behind the scenes consultant on a number of films and television projects about sex and relationships
Follow Reid twittering as @ReidAboutSex. Like and subscribe to his Facebook page, Facebook.com/ReidAboutSex!