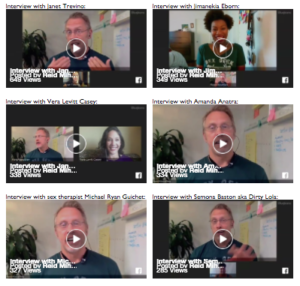 Listen To Various Sex Educators Answer the Question: "I Do __________ for Sex Ed."
Every wonder how sex education differs from teacher to teacher? I have. And I'm such a nerd about it that I took half a day to interview some of my favorite Sex Geeks (who also happen to be Sex Geek Summer Camp Alumni) and asked them to explain what it is that they do and how!
Enjoy these 20-minute'ish interviews and feel free to share in the comments below what YOU learned from watching them.
And since many of you are also sex educators, I end each interview by asking them to share what they got out of attending Sex Geek Summer Camp and how it helped them start making (or amplify) how they made a living as educators…
WANT A FREE WORKSHEET TO COME UP WITH YOUR OWN ANSWER?
Visit – http://ReidAboutSex.com/idosexed
Interview with Amanda Anatra"‹:

Interview with Dirty Lola:

Interview with Janet Trevino"‹:

Interview with Vera Levitt Casey"‹:

Interview with sex therapist Michael Ryan Guichet"‹:

Interview with Jimanekia Eborn:

Interested In Learning More About
Sex Geek Summer Camp?
Visit
ReidAboutSex.com/campfaq