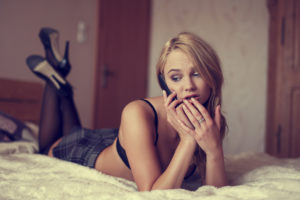 How Can You Create More Sex Date When You're In A Long Distance Relationship?
Cathy: How can you create more sex date and phone play times when you're in a long distance relationship this is Reid Mihalko http://www.ReidAboutSex.com
Reid: Cathy Vartuli from http://www.TheIntimacyDojo.com
Cathy: Why, you don't remember after all this time?
Reid: All the time. But you talk while I sext somebody.
Cathy: The person who wrote in said they're in a long distance relationship and their partner is in Law School so they are getting busy and they have been in this relationship for a while. They miss the play time when they would get on the phone and have hot heavy sex on the phone or sexting because he's in Law School he's just being distracted maybe he's not much into that than she is but she like to know how she can increase that?
Reid: I'm thinking you start sexting him first or her first or whoever it is first. Schedule it, ask them for permission to send them invites for their calendars that now is the good time to sext something. Again, in this situation what I'm hearing is Law School people being like heavy work environment or something changes dramatically and you getting knocked off with your usual routine.
Cathy: Yeah they wondered if they're partner could be in busy, school or whatever. One thing I notice is sexting is I never felt so super confident how to do it and I started doing some research on what to do and the cool thing is it's a lot of dirty talking, you can tell someone very specifically what you want to do and not just like dick and pussy and dick or dick or whatever, or whatever whatever. Yeah I really love what you're doing on my ear over there… That's describing when we're in person when it need space we have the sensations and we can get more intentions saying that I want to slowly run my fingers over your skin and feel you tremble underneath me the more descriptive and detailed as you can get, that's really.
Reid: You can tell that it's working for Cathy, its good and that's a great advice. Like tell people what you want to do with them or what them to do to you and be like be your own little erotic writer. You can also asks like just sexy questions you know if my penis was hard what would you want me to do with it. For some of us like oh my God like I'm not an erotic novel writer. Great, ask questions like if I was to nibble on you where would you want me to nibble on you? And again for me I'm like because I don't know where you want to be nibbled so teach me obi-wan Kenobi and just like asking questions that are salacious in nature.
Cathy: I also sometimes with partners that haven't been they felt like too intimated, we did some role-play like imagine we are someplace you know naughty or whatever like make it about some other people or some other places fantasy that let them be a little more creative and spontaneous about that but I think I could also just letting someone know like if they're not really into it, what would they be into really like I really want to have that connection for apart we're both really busy, how can we connect with that and being open to solutions?
Reid: And understand that sexting is about our phones so people think it has to be text, I have people that record little dirty voicemails and then sent them to me as audio files or actually will call me and say don't pick up the phone I'm calling you right back and I know what that means so then I'm like my job is to remember not to pick up the phone until later and they'll leave me a dirty voicemail. You can have your partner buy you an erotic book if they have one that they like, have them underline the scenes they want, send the book off to Law School and have them read the book in an audio file in a sexy voice and then your Batman voice. And then send you the audio file so sometimes maybe your partners just not good at coming up with new stuff but can read the fuck out of something you send them which then you're like well that's not romantic I had to go to all this work. Think of it as you training them how to do this.
Cathy: There are also sex toys that are remote-controlled and a lot of people might have fun that might add a sense empowerment and physical sensation you give your partner their remote control that you can hook it in your phone.
Reid: And then they're in Law School with the iPad it maybe you're face timing, there's a lot of different ways you can do this and in a culture that doesn't talk about sex, how would you sit at home and be just like Eureka, I figured that out! We hope this video was useful, leave some comments because you might have an idea that is aha moment for somebody else how do you like to initiate or keep the sexting going? What are your sexting secrets? Or lies people teach us Obi Wan Kenobi?