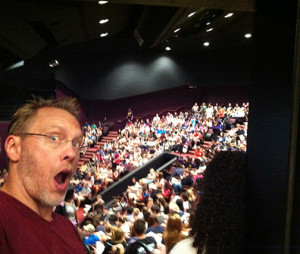 Let Reid teach you how to have less stress, have more fun, and make a better living as a Sex Educator! 
Are you a sex educator? Workshop leader? Healer or Teacher? Coach/therapist?
Wish you could reach more people and make a better living answering your calling?
Tonight is for YOU… 

Learn How To Have Less Stress, More Fun, & Make a Better Living as a Sex-Positive Professional!
If you're tired of being the best kept secret in your field… Of struggling to make ends meet while your friends and family disapprove… Of worrying if it's really worth sharing your gifts with the world and doubting if sex education will ever payoff financially as a career… If you're ready to quit sacrificing your wellbeing and peace of mind, and hungry to make a difference in people's lives AND MAKE A LIVING, then this evening is for you.
Too many smart, savvy sex educators/healers/workshop facilitators and sex-positive professionals struggle to pay the rent. You have a message that is worth sharing. A message that people NEED. Yet, it seems like people are always asking you to lower your rates, teach for free, and give another chunk of yourself for nothing.
How can we get people to see the value and transformation great sex, intimacy, and relationship information brings to their lives? And how do we get them to help support OUR lives financially while we transform theirs emotionally/physically/spiritually?
Being a sex-positive professional and making a decent living can seem at odds. Too many amazing healers, educators, coaches, and wellness professionals are on the verge of financial and emotional collapse from the worry, burnout, and frustration of trying to make ends meet while sharing their calling with the world. What if you could change lives AND get paid decently for it? What if there were ways to reach more people with your message using less effort? And what if there was a learnable approach to sharing your amazing knowledge that would augment your strengths, make you more prolific with less stress, inspire your fans and clients, free up more time for you to relax and recharge, and help you make money without feeling "salesy," pushy, or creepy?
The good news: This is all possible, and you can do it, too! Join sex and relationship expert and business geek, Reid Mihalko, creator of SexGeekSummerCamp.com for an informative and humorous evening where he'll show you 3 crushing mistakes most sex-positive professionals are making that leave them frustrated, burnt out, and broke, AND the successful business models and practices that will help you turn your calling into a life-long, successful career.
Date: Sunday Jun 5th, 2016
Time: 7:00-9:00pm
Location: INKubation Theater – Eau Claire Market 200 Barclay Parade SW, Calgary, AB T2P 4R3, Canada
Tix & Info: HERE! 
Curious about booking Reid for a private class? Go HERE!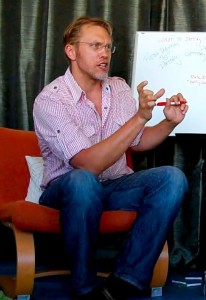 ABOUT REID MIHALKO: America's favorite sex geek, Reid Mihalko of ReidAboutSex.com and Relationship10x.com  helps adults and college students create more self-esteem, self-confidence and greater health in their relationships and sex lives using an inspiring mixture of humor, keen insight, and comprehensive sexual health information.
Reid frequently speaks at colleges and universities on sexual assault prevention and healthy relationship skills, and regularly appears in the media sharing his views on consent, dating, and shame-free sexuality.
Reid's workshops and college lectures have been attended by close to 50,000 men and women. He has appeared in media such as Oprah's Our America With Lisa Ling on OWN, the Emmy award-winning talk show Montel, Dr. Phil's The Doctors on CBS, Bravo's Miss Advised, Fox News, in Newsweek, Seventeen, GQ, The Washington Post, and in thirteen countries and at least seven languages.
Reid is also founder of Sex Geek Summer Camp and Sex Geek School for Gifted Sex Geeks which help sex educators learn valuable business skills that allow them to reach more people, transform move lives, and make a better living as sexperts.
Follow Reid on Twitter and Facebook and YouTube.