Behold! The Sex Geek Purple
V-Neck!
This is a super limited offer…
SORRY, FOLKS –
SOLD OUT. 🙁
Yep, you get first dibs, but the dibs won't last long.
So many Sex Geeks (maybe you?) have been requesting that I make a purple, woman's cut, v-neck Sex Geek t-shirt that I finally caved-in and began my search for a V-neck that I liked (that came in purple!) and was made by a company that seems to have integrous manufacturing practices.
Seriously, it took me, like, a year, and driving my tee printer slightly cray-cray, to get my hands on and go through all of the various samples to see which v-neck was going to be the perfect v-neck. (Did you know you have to pay to get t-shirt samples?! No free rides when it comes to t-shirts, I guess! LOL)
Well, I hope you'll agree that the wait was worth it 'cause I finally pulled the trigger and put in the order… And they arrived this week!
To beta-test if folks really meant what they said… That some of you really, really want a purple v-neck Sex Geek tee…
I ONLY MADE 12 of each size –
Women's sizes ONLY – S, M, L, LG, XL
[ALL SIZES CURRENTLY SOLD OUT]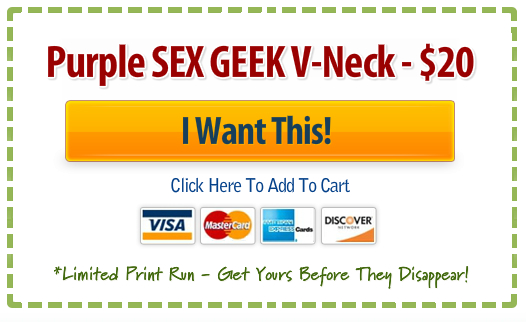 Once I sell out of the 12 tees in each size, I'll decide if I'm going to make another print run or just refund everyone who clicked and purchased too late.
No promises if I'm printing more or not. Assume I won't, just in case.
The company that makes this tee, btw, is Next Level Apparel and these tees are a tri-blend, not 100% cotton. Hope that helps you! 🙂
Can't wait to see all the selfies of you in your new tee!
Yours in Sex Geek tees,
REiD
P.S. If you want one (or two) of these V-necks, please really do order soon. I'll be posting about these tees on Twitter this Black Friday, which means I'm pretty sure they will sell out fast, but I thought YOU deserved a head start! Feel free to FWD to a purple-loving Sex Geek in your life if you got one… Or order one for them 'cause… Holidays. 🙂