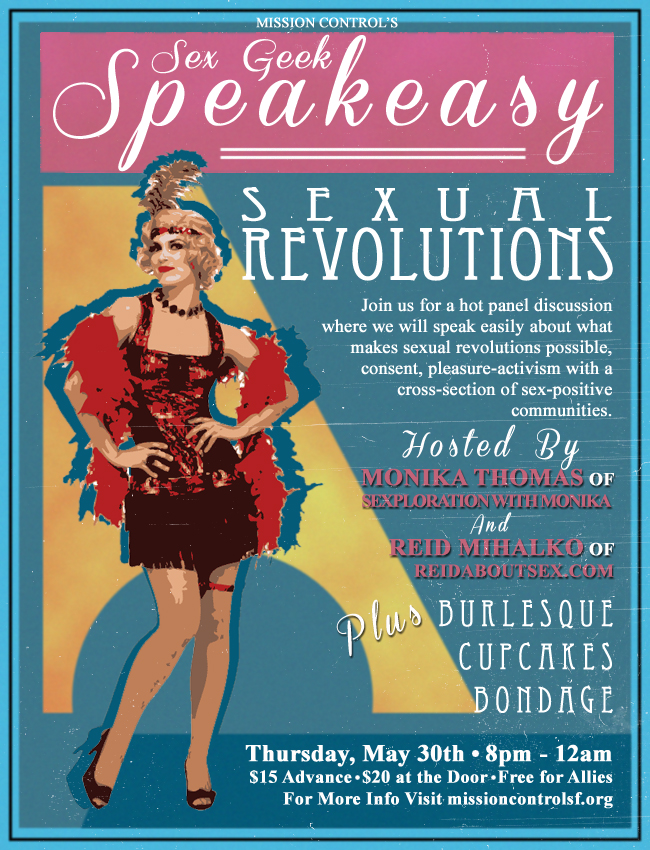 Date: May 30th, 2013
Time: 8pm-12am
Location: Mission Control in the Mission, San Fran – Address upon registration
Cost: FREE for Mission Control Allies, so consider becoming a member.
Members are $20 at the door and $15 advance.
Tickets: events.missioncontrolsf.org/events/1666
FYI: Mission Control fills up FAST, so consider getting your ticket ASAP!
Join Us For An Evening of Brain Sex, Networking, Peermanship, Entertainment, and Fun!
You can fully explore the pleasurevolution of today, yesterday, and the future at the "Sexual Revolutions" Sex Geek Speakeasy. We'll be entwining the spectrum of sex positive communities with performances, mini-workshops, and a panel discussing what makes sexual revolutions possible, personally. locally, and socio-historically. The panel will be moderated by Robert Lawrence, co-founder of the Center for Sex & Culture with panelists like Deborah Taj Anapol, Ph.D. author of "Love Without Limits" and "Polyamory in the 21st Century," Joani Blank founder of Down There Press and Good Vibrations, and other sex geek revolutionaries…
Join our diverse cross-section of sex-positive communities from BDSM to tantra, polyamory to swinging to monogamy, Sex Geeks to Muggles, and beyond!
You could experience a mini-workshop on breath work, massage, 2nd base petting and body language, and watch burlesque, suspension bondage. or a kinky splooshing scene.
Also, there will be an on-location broadcast of the Sex Geek Speakeasy on the sex-positive-feminist radio show, Sexploration with Monika.
An exhibit from fine art erotic photographer David Steinberg will celebrate sexuality with disability and transgender beauty.
Wear a costume of historical sexual revolution, if you choose… the roaring 20's, the swinging 60's… or even the first wave of "free love" in the 1870's. Or come as your own personal sexual revolution!
Plus, coloring from "The Big Coloring Book of Vaginas" and Wicked Grounds with prizes for the best coloring book enhancement with crayolas!
This event is FREE for Mission Control Allies, so consider becoming a member. Also, it is a pretty small venue, so consider getting your ticket ASAP. events.missioncontrolsf.org/events/1666
Learn petting & body language tips from Fuzzy Philippe!
Kitty Striker will performing a playful kink scene.
Live suspension bondage from Tom Foolery.
Spanking and kink demos in the Fungeon at the hands of some Threshold hosts, including Pepper & Michael.
Tantric breath work or touch with Venus and the Essence team in the Pink room.
Get a sneak peek of the films Divine Nectar: A Guide To Female Ejaculation by Tallulah Sullis and Better Female Masturbation and a Better Sex Life with Daisy from the Welcomed Consensus!