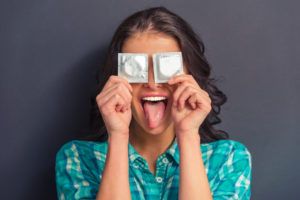 What Is FC2 (Female Condom)? | Facebook Live With Reid, Matie, And Kate
Reid: So we're trying pursuing Facebook live from an airplane while we're boarding. I have Kate and Matie from Self Serve toys.
Kate: Hi
Reid: Hi. In Albuquerque.
Matie: Hey.
Reid: And we are in Denver.
Kate: And we're leaving and I'm really excited this weekend where we learn so much. And now we're gossiping about the hideous things we learn, what exactly to do on a way home from a long trip.
Reid: That's right. So I figured, I figured you try this. And then comment if you can hear us, if this is okay.
Kate: Cause it might not at all.
Reid: It might not be okay. And then
Matie: Oh, someone gave us a thumbs up.
Reid: Thumbs up.
Matie: Yeah, thank you.
Reid: So so so sex geek, today in sex geek news from an airplane, as we're boarding, not flying. What we're talking about is the FC2 condoms
Matie: Yeah. Otherwise known as you female condoms which is a little bit of a problematic name cause not everyone who has holes
Reid: Insert them.
Matie: used you know has a vagina or is a woman.
Kate: So, the insertive condom is one of our favorite condoms and it feels fantastic and it works for a lot of people in a lot of different ways. And according to the US distributor of the FC2, they are no longer going to be available for sale anywhere because they're taking it just to a medical market. So the only people who will be able to access these condoms are people who have insurance and get prescriptions and access to talking to their doctors about the kind of condom they need.
Reid: That sounds weird because that would I can only imagine that this is a company decision for money reasons.
Matie: That's what the [inaudible 00:1:37] says
Reid: And FC2 that I knew know of gave a lot of free condoms for a long long time.
Kate: And true and maybe there's something about that maybe they figured out that they will be able to access people on Medicaid in a better way in a more direct way. Who knows?
Matie: Which may be nice.
Kate: We wanna know more about it.
Reid: Where they give the house away and now that they're broke and they have to make a lot of money.
Kate: Yeah.
Reid: I don't know.
Matie: And what we know about this in this business.
Kate: Yeah right. So anybody knows anything about this. Please let us know because we just found this out and it's a super bummer.
Reid: And if you have access to them, and know someone that's one having for free you might wanna want to stock file them even though they do have an expiration date.
Matie: They have an expiration date of five years but because they're nitrile they don't need to be stored in any special temperature or or you know, like dark place.
Reid: Like their wine cellar?
Matie: Yeah. No no wine cellar for your FC2 condoms
Reid: Yeah, they got it. Okay. Anything else you want to say to the audience, that's people look forward.
Kate: Come to http://www.selfservetoys.com/. And shop at the Albuquerque finest sex stores and it's really fun to geek out with my favorite people. My brain is broken, from all the brain sex but it's all good.
Reid: And just thanks Alvarado for throwing the elevation event and inviting salsa tour toys and having me there that was really fun again. Any highlights from that?
Kate: Oh my god.
Matie: There are so many highlights. But for me the big one was connecting with similar stores who do similar things to us.
Kate: For me it was, addition to that, it was walking [inaudible 00:3:12] 17,000 sq. foot warehouse catching 13,000 individual items.
Matie: 13,000 or is it 13 hundreds?
Kate: 13,000 [inaudible 00:3:19], they're they're carrying 19,000 items 6,000 our lingerie which we don't sell but we looked at 13,000 sex toys.
Matie: We like what up and down the aisles with batteries and put them into things and turn them on and we're like do we want to test this?
Kate: And so we got great stuff to test. And that is amazing.
Matie: It's full.
Reid: And last but not least maybe you've been to camp.
Kate: Yeah. Everybody go to the sex geek summer camp. I'm a two-time camper it changed my life it's some wonderful experience I, if you want to get into the industry or your rDNA industry and you'd like to make more money and you'd like to like connect with peers definitely go to sex geek summer camp. It is a life-changing restorative incredible experience and also most of us don't have a lot of peers knowing what to do. So being able to connect with people who are actively trying to make the world a better safer sexier place it was a very rare and unique opportunity. And most of the time are in like very mainstream sexy stuff like we end up with folks who maybe are not on the same page politically like you know, economically with us. And sex geek summer camp is really a unique experience to be with sex educators who are sex-positive and pleasure focus.
Matie: Yeah. I love it.
Reid: Alright, anything you wanna add?
Matie: I just know it's just got really quiet in this plane room.
Reid: So now we're gonna say goodbye. So thank you for our first podcast from an airplane.
Matie: Bye all.
Kate: From an airplane.
Reid: Okay. Bye, everyone.