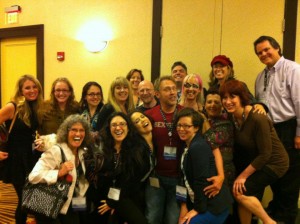 Dear Sex Geek,
I'm pleased to announce my brand-spanking new affiliate program (I said spanking), something that I'm both excited about and a tad overwhelmed about (the affiliate program, not spanking)!
The original affiliate program was originally launched back in 2012 with the generous help of Cathy Vartuli of TheIntimacyDojo. AND now, the new and imporved affiiliate program I have is paired with Kajabi, the online platform I use to host my online courses, send my email broadcasts, and run my shoppingcart system.
Each year, I launch new products, promote best-selling ones, and announce several, upcoming live events. If you want to help me spread the word while getting credit for sales that happen via using your links, I invite you to sign up today!
If you sign up, when I have something affiliate related about to happen, you'll get a "heads up" email with dates, detailed info on the programs, and all the goodies in store for affiliates when it's time for us to launch and promote 'em!
If you're new to affiliate programs and how they work, I'll be delighted to walk you through it all. It's not as scary or complicated as it might seem. Once you're all set up, I will provide you with affiliate portal logins and personalized links for you to use. For larger launches and events, I will supply you with possible text/wording you can edit accordingly to make your promotions a breeze. My team and I will make it as painless and as fun as possible. Promise!
If you have a question about setting any of this up, you can contact me and my team at Support@ReidAboutSex.com.
With your personalized affiliate links and promo copy (tweets and longer text for things like Facebook —hint, hint), you are free to share them "as is" with a simple "copy and paste," or edit your own changes/edits as you see fit.
You can learn more about affiliates here: ReidAboutSex.com/what-the-hell-is-an-affiliate-program

You can get some insights and free training on what to do and what not to do as an affiliate here: ReidAboutSex.com/sexpert-affiliate-101

And you can sign up to be an affiliate with Kajabi for me here:
http://ReidAboutSex.com/new-affiliate-program
How it works:
The affiliate program pays 50% for most digital products on my website. Live events and merchandise, on account of their higher overhead, usually don't have affiliate commissions tied to them–and, every once in a while, I do make exceptions for certain promotions. The payout percentages vary for those exceptions, so don't be afraid to inquire what they are. You promote your unique affiliate link and anyone who clicks through via your link and makes a purchase; you get percentatge of that sale. Happy holidays from my website to yours!
To receive a referral fee for spreading Reid's work, all you need to set up your account is the following:
1) Your name
2) Your best email address for correspondence.
3) The email you use for PayPal payments.
If you don't have one, you can set one up at no cost in 5 minutes at PayPal.com
Set up your affiliate account for Kajabi here:
ReidAboutSex.com/new-affiliate-program
Note from Reid: If you have the word "sex" in your email URL like I do, since PayPal's been known to shut down accounts of a sexual nature, do what Anton Diaz advised me of doing, which is using a "safer" email addy, one without the word sex in it. I ended up using Workshops@ReidMihalko.com rather than my standard ReidAboutSex.com addy. Just sound advice.
We strongly recommend you use an EIN Number to protect your Social Security number. You could get one at no charge, immediately, at:
sa2.www4.irs.gov/modiein/individual/index.jsp
Set up your affiliate account for Kajabi here:
ReidAboutSex.com/new-affiliate-program
As an affiliate, you'll get access to training videos and mp3s where we'll train you on the latest and most effective ways to help people know about valuable information and let you earn commissions at the same time.
So help spread the word and share life-changing information to your communities and followers, and make some dough for your pockets!
Yours in sex geekery,
REiD
[Edited and Updated: 2/14/20]