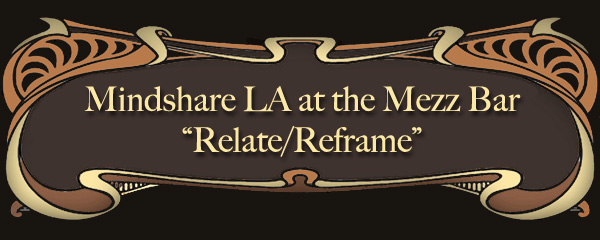 WHEN: Thursday, February 16th
Doors at 7, talks at 8:30, fun & music after
WHERE: The Mezz Bar, Alexandria Hotel
501 S. Spring St., Los Angeles
TICKETS: Tickets are for sale here
$25 in advance (or $20 for a 4+ Friend Pack!)
$30 at the door – but we're expecting this event to be sold out!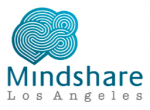 I'm really excited to be part of this sexy salon hosted by Mindshare LA. Join us for happy hour festivities starting at 7 pm in The Mezz Bar in the Alexandria Hotel.  At 8:30 there will be a series of talks from some amazing folks, see all our bios below.  And from 9:30 until midnight there will be interactive technology interactions, games, a stocked bar, live painting by John Park, and Super Tall Paul (of Helios Jive) will be bringing his headphone lounge!
It's going to be a night to remember – join us in LA!
See Me Twice!: I'll be presenting  "I'll Have What She's Having: Orgasms Made Easier" Monday 2/20 with Mindshare LA – info here!
MC, "Relate/Reframe"
Douglas Campbell/ Co-Founder & Curator, Mindshare LAWe see the world through a limited faculty of senses. While our brain attempts to construct a coherent narrative, we should still be aware that this is reality through a very limited lens. Relate/Reframewill explore the realtionships we have with ourselves, others and the world.Doug is a community constructor, experience engineer and tuxedo traveler. He co-founded Mindshare LA in 2006 as well as the interactive collective Syyn Labs in 2009. He likes wearing tuxedos for charitable escapades.
The Bizarre World of Animal Relations


Andrea Choe / Postdoctoral Scholar, CaltechWhy do snails throw calcified darts at each other before mating? Why do birds like love shacks made from old cheeto bags? Here we explore some of the worlds strangest mating rituals, probing into the nature of animal magnetism at its weirdest.Andrea is a postdoctoral scholar at Caltech, currently studying ways to eavesdrop on worm talk and using their language to possibly cure autoimmune diseases. She currently holds a PhD from Caltech and is also obtaining her medical degree from USC. 
Social Media and You: A Love Story


Alie Ward

/ Writer and Drink ConcoctioneerRelationships were already complicated, but now social media has taken PDA from public pucker-ups to a textual (and pictorial) level, putting people on different sides of the "Relationship Status" debate. So what are the rules of romantic (dis)engagement in the blog/vlog/Facebook/Twitter era? Has much changed since the analogue days? And are there some practices or traditions that persist despite, or even because of, all of technology's vaunted advances and social effects?AlieWard is a writer, a painter, and an American TV actress. Ward has written for L.A. Weekly and the L.A. Times. She makes appearances on KTLA's Brand X segment.  She has also achieved notoriety from her Alie and Georgia online videos, where she and her close friend, Georgia Hardstark, offer up their recipes for some rather odd culinary concoctions, such as the infamous McNuggetini.



The Relationship Revolution




Reid Mihalko

/ Sex and Relationship Expert

What's your self-Expression in love, friendship, family and intimacy? Discover why marriage, monogamy and dating seem to be shakier today than ever before. It's not that people are less able to commit; it's because we've got more choice and say in our relationship lives than ever before in history and yet, the cultural messages are the same as they were 200-years ago. Discover what relationships YOU should be choosing!Sex and relationship expert Reid Mihalko of Reid About Sex helps adults create more self-esteem, self-confidence and greater health in relationships and sex lives. Reid has appeared on the Emmy award-winning talk show Montel, Fox News, in Newsweek, Seventeen, GQ, The Washington Post, and in thirteen countries and at least seven languages. His workshops have been attended by close to 30,000 men and women.