It's the last Bawdy Storytelling of 2015!
Join me & celebrate the holidays with an evening of stories, songs, & sex toys!
The show's theme is 'UNWRAPPED!'
This Epic Evening of Storytelling includes ME and the following Sexgeeks:
– Three-time NYC Moth Slam winner Molly McCloy
– Sexual Adventurer Alice P.
– Widower & Recycler Jerry Franklin
– Custom Bawdy songs by Rachel Lark
– Got a story? Pitch it to Dixie@BawdyStorytelling.com
– Go VIP! It includes Reserved Seating & a Gynormously valuable Lelo Gift Bag
– Yep, HUGE Bang-O prize packages from our pals at Lelo
DATE: Wednesday, December 16th, 2015
PLACE: Verdi Club, 2424 Mariposa, San Francisco, CA
TIME: Doors at 7 PM, Stories at 8 PM
Invite Your Friends To Join Us Via Facebook HERE!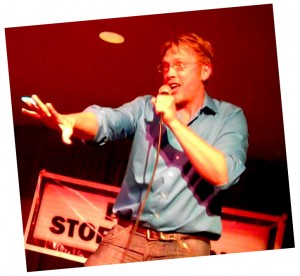 About Bawdy Storytelling:
Bawdy Storytelling – the Original Sex + Storytelling series – features Real People & Rockstars sharing their Bona Fide Sexual Exploits Live Onstage; think of us as a One Night Stand with the Moth & Savage Love. Storytellers are an eclectic mix of Authors, Porn Stars, Sex Educators, Comics & More, along with Regular Joes just like you who submitted their stories online and were chosen for their panache and sense of (Mis)Adventure.
Bawdy Storytelling features tales of Carnal Wins & Epic Fails with No Scripts, No Nets, and No Holds Barred. These folks aren't reading from cue cards: this is honest-to-badness story time with true sexcapades and poignant, transformational tales at each and every show. Join Sexual Folklorist Dixie De La Tour & hand-picked Rockstars as they share their own stories of Love, Lust, and making you feel funny in your bathing suit area. Hey, you may even go home with a few new tricks for your boudoir arsenal!
Performer bios:
– Molly McCloy is a three-time NYC Moth Slam winner with work published in Slate, Nerve, and Swink. She holds an M.F.A. in Nonfiction from The New School, and teaches at Pima Community College in Tucson. Currently on sabbatical, Molly is touring Mad Dog Grudges, her one-woman show that unravels her screwed-up family's legacy of violence and addiction, explores the ridiculousness of grudges, and asks what it takes to forgive others…and yourself. To learn more about upcoming performances go tomollymccloy.com or email molly.mccloy@gmail.com to sign up for the email list.
– By day Jerry Franklin is a mild-mannered writer of technical and marketing communications for software companies. By night he is a dynamic actor/playwright, polishing a solo stage play about his late wife and his first year as a widower, at The Marsh Theatre in San Francisco.
A Brooklyn native and current Alameda resident, Jerry is an experienced performer. He has professional credits as an improv comic, an opera singer, and an off-off-Broadway actor. But this is Jerry's virgin attempt at bawdy storytelling. Please be gentle.
– Alice P. is a transplant from Washington, D.C. where she had her first ever live story turned into an award-winning short film. That is about all she has accomplished thusfar in life, but she also loves pugs, pizza, Italo Disco, and Yanni. She is currently a graduate student in Arts Therapy and works to help people tell their stories in a safe and supportive environment (just like Bawdy, but perhaps without a microphone).
– Rachel Lark is a singer/songwriter who sings about Sex, Drugs, heartbreak, and Messy Apartments. An up-and-coming San Francisco artist with a die-hard cult following, Rachel Lark has quickly become the musical muse of the sex-positive revolution. Her music has been featured on The Savage Lovecast, and she performs frequently San Francisco counterculture haunts like Bawdy Storytelling and Tourette's Without Regrets.Her music is always lyrically based with a strong foundation of passionate songwriting, while the timbres vary depending on the performance. Sometimes she's bantering with the crowd over some ukulele plucking, and at other times she'll be behind her laptop and synthesizers creating dance beats to accompany her layered vocal harmonies. In 2014 she released her debut EP, "I Wouldn't Worry" followed by her first full-length album, "Lark After Dark," and her Christmas album "Hung For The Holidays." In 2015 she successfully funded a music video and new album through a Kickstarter campaign and has just released both her new album, "Vagenius" and her new music video for the song Warm, Bloody, and Tender. Find her music (and videos) at RachelLark.com
– While Sexual Folklorist Dixie De La Tour has been telling true, dirty stories for ages, it was in early 2007 that she founded Bawdy Storytelling, the Nation's original sex and storytelling series. Internationally known as the 'Grande Dame of Dirty Storytelling," Dixie has taken Bawdy from an industrial loft in the Bay Area to a multi-city live storytelling event that welcomes true stories from any and all communities (LGBTQIA, kink, polyamory, swingers, vanilla, and many more). Dixie and Bawdy Storytelling have been praised by press both big and small; She has been lauded by Master Storyteller Mike Daisey as a "masterful emcee, and her show is everything that works for storytelling–she creates a warm, safe space in which stories can bloom with dark hilarity, salacious textures, and moments of deep connection." Dixie has hosted and curated Bawdy Storytelling events at Yale Sex Week, the Bondage Awards, CatalystCon Sexuality Conference, Dark Odyssey, FetFest, and more, as well as her home turf of the Bawdy Mainstage and BawdySlam shows. She works with each storyteller, crafting and curating, to make sure that the evening is a cohesive whole. She also leads storytelling workshops where would be storytellers can hone their craft (while arousing their audience).In her spare time, Dixie can be found causing trouble in the San Francisco Bay Area, Los Angeles, New York, Seattle, Portland, and any other major city where literate perverts gather to tell dirty stories.
–––––––––––––––––––––––––––––––––––––––––––––––––––––––––––––––––––––––––––
"The Moth for Pervs" — LA Weekly
–––––––––––––––––––––––––––––––––––––––––––––––––––––––––––––––––––––––––––
The Nation's Original Sex + Storytelling series featuring Real People & Rockstars sharing their Bona Fide Sexual Exploits, Live Onstage
–––––––––––––––––––––––––––––––––––––––––––––––––––––––––––––––––––––––––––
Winner of the SF Weekly's Best of San Francisco & the LA Weekly's Best Of Los Angeles (for Best Storytelling) & 2 Time Winner of the SF Bay Guardian's Best of the Bay Award (Best Literary Event)
–––––––––––––––––––––––––––––––––––––––––––––––––––––––––––––––––––––––––––
"Dixie De La Tour's scandalous, over-the-top Bawdy Storytelling series" — SF Weekly
––––––––––––––––––––––––––––––––––––––––––––––––––––––––––––––––––––––––––
Want more Bawdy?
BawdyStorytelling.com
Twitter: @Bawdy
at Facebook.com/BawdyStorytelling