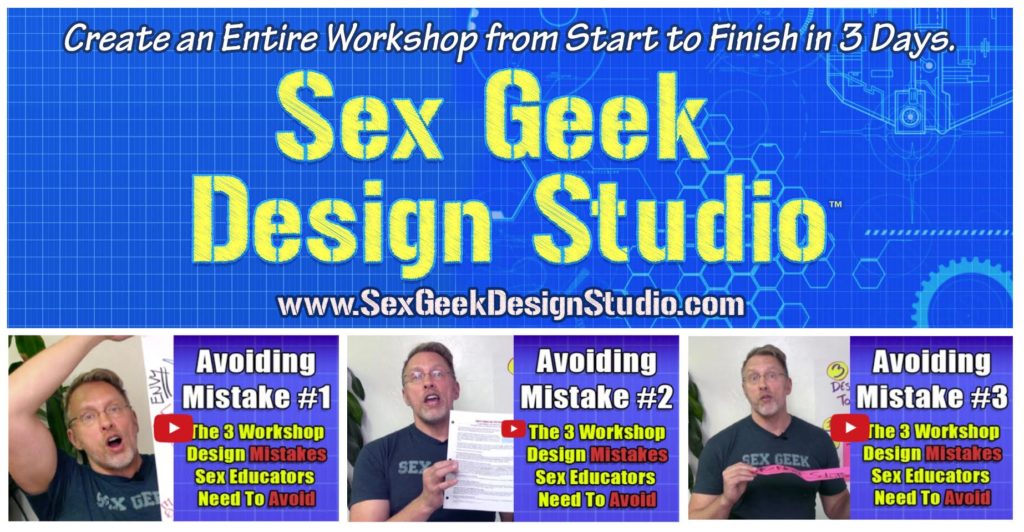 Let Reid Teach You To Create Your Own Workshop In Just 3 Days, During Catalyst-Con Week!!
Most Sex Educators and Workshop Facilitators Struggle with Workshop Design. But You Don't Have To… Not Today. Not Anymore. And All It Takes Is Three Days.
Why not tap into and harness your ability to "call forth" and generate smart, engaging, empowering curriculum that is easy to learn and impossible to forget? Don't you want to create curriculum that impresses your peers, and expands your reach while making it near impossible to rip-off or steal your ideas?
You don't have to be a "one-hit wonder" of the sex education world. Or, worse, a no-hit wonder. You can give yourself more freedom, more choice, and more ability to create countless workshops, lectures, keynotes, and online programs. And I can help you do it in just 3 days!!
Join Me, If You're a Sex-Positive Educator and Would Like To…
Create more engaging, charismatic, trustworthy products and programs that you can get paid to run at colleges, sell online, or write into a book …
Learn how to create unforgettable teaching frameworks that make your content easier to learn and harder for others to rip-off
Feel more self-confident teaching in front of small and large groups (because your workshops are a natural extension of your self-expression)
Have marketing your programs and products be a breeze because how you design your workshops automatically crafts your marketing!
Know that your attendees will feel they got more than their money's worth and will value the message and lessons you share because of the way you share it.
Be able to teach your content at other people's events, confident that you'll add value, kick-ass, and leave the organizers raving about you.
Turbo-charge all the content you already have and learn how to plug one workshop into an entire curriculum or certification program…
Create a certification program that allows you to teach others how to spread your work so YOU can relax while your work happens in multiple places, AND you get paid for it!
And do all this while having a blast building a network of fellow educators who will cheer you on!
In-Person Training Is Limited to the First 30 Registrants… And 6 Tickets Are Already Taken. Take That 1st Step Now!!
Date: Sept 13-15, 2017
Time: 9am-5pm each day
Location: The Westin Los Angeles Airport – 5400 West Century Blvd, Los Angeles, CA 90045
Tickets and Info: HERE!
Can't Make It To LA? Get Free Training Videos HERE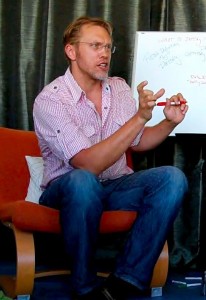 ABOUT REID: America's favorite sex geek, Reid Mihalko of ReidAboutSex.com and Relationship10x.com helps adults and college students create more self-esteem, self-confidence and greater health in their relationships and sex lives using an inspiring mixture of humor, keen insight, and comprehensive sexual health information.
Reid frequently speaks at colleges and universities on sexual assault prevention and healthy relationship skills, and regularly appears in the media sharing his views on consent, dating, and shame-free sexuality.
Reid's workshops and college lectures have been attended by close to 50,000 men and women. He has appeared in media such as Oprah's Our America With Lisa Ling on OWN, the Emmy award-winning talk show Montel, Dr. Phil's The Doctors on CBS, Bravo's Miss Advised, Fox News, in Newsweek, Seventeen, GQ, The Washington Post, and in thirteen countries and at least seven languages.
Reid is also founder of Sex Geek Summer Camp and Sex Geek School for Gifted Sex Geeks which help sex educators learn valuable business skills that allow them to reach more people, transform move lives, and make a better living as sexperts.
Follow Reid on Twitter and Facebook and YouTube.