Lots of people are curious about Tantra and ecstatic sex, but don't find the New Age approach appealing. If you've got a low tolerance for words like "chakras' and "yoni," you can still discover how to experience and play with sexual energy!
Sex and relationship expert (with a sense of humor) Reid Mihalko of ReidAboutSex.com will not only explain how sexual energy works but show you!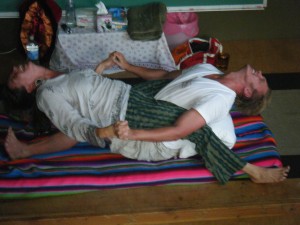 2-Days devoted to developing your awareness and mastery of sexual energy…
Come to 1 or both days

!

Cultivate your awareness of sexual energy and give yourself the tools for engaging and expanding your energetic experiences (solo or with a partner)… And witness live demonstrations of what "Energetic Sex" can look like! Plus, tips for unlocking and activating pressure points on your partner's body to enhance sexual energy, and lots, lots more… (And of course, if you do like the "woo," Reid has plenty to offer you, too, in this unique 1-day or 2-day experience!)
Day-1 will be Rated-R. Day-2 will be more explicit. Read below…
This 2-day workshop Intensive is designed for curious beginners, intermediate seekers and advanced practitioners.
Perhaps you've heard of Tantra and remember reading somewhere (last month's Cosmo?) something about "expanded orgasms," but think that kind of stuff is only for people like Sting, yoga instructors or Jedi.
Maybe you or a lover has had ecstatic experiences in the bedroom involving post-orgasmic spasms that seem to have a mind of their own, but these spasms come and go infrequently enough that you can't tell if they're real or not.
Maybe you or your lover get these spasms all the time and you've since named them "the twitchys," and when you told your friend the Kundalini yoga instructor about 'em, they lit up and told you those spasms have a Sandskrit name called Kriyas (which you promptly forgot 'cause you don't speak Sandskrit).
Whatever your level of experience with sex that seems to be "more than just sex," join world renowned sex and relationship educator Reid Mihalko for 2-days of humorous and informative instruction, sex education, and live demonstrations on this esoteric (and yet more common than you think) realm of sex: Energetic Sex.
Day-1 will be Rated-R with a Show-N-Tell, Watch and Ask Questions format. All Day-1 demonstrations will be fully clothed. Day-2 is Rated NC-17, with more explicit demonstrations. Participants on Day-2 will be practicing fully-clothed exercises. No one under 18 admitted to either day, and no participant nudity.
Register ASAP.
Day-2 Limited to

ONLY 20 Adults

, with Day-1 attendance a pre-requisite.
Date: Saturday and Sunday, 14th adn 15th, 2010
Time: 1-5pm both days
Location: The Sharma Center
406 Dexter Street
Seattle WA 98109
Cost: Day-1 only: $97
Both Days: $197
Day-2: Attendance at Day-1 is a prerequisite to participate in Day-2.

Day-1 only


Both Day-1 and Day-2
Day-1: You'll watch while Reid demonstrates.
You will be introduced to:
Reid's particular views on how sexual energy "behaves" and how it "works," as well as ways you can begin accessing more energetic awareness in the bedroom
What Kriyas ("the twitchys") can look like and what to do when you or a lover experiences them
Three possible approaches for engaging sexual energy and expanding it when exploring energetic sex with a partner or solo with yourself
What playing a singing saw has to do with energetic sex and expanding your lovemaking
Simple breathing and "presence" techniques to build up energetic awareness
How to use "pressure play" and where so you can help unlock and activate points on your lover's body to augment energetic experiences during love making
A few advance tips and tricks that will make you smile and your partner moan regardless of whether "the twitchys" happen or not!
Day-2: Sunday limited to

20 participants only

!
The group will watch explicit demonstrations from Reid and his models to review and enhance techniques covered on Day-1. Reid will introduce fully-clothed, voluntary exercises for class participants, along with personal and group coaching and guidance, to begin exploring, embodying and anchoring the content.
Some of Day-2's content:
How nudity changes sexual energy
Techniques to enhance energetic lovemaking on female and male gendered bodies that are naked as opposed to clothed
Techniques to keep erotic energy "in check" when and if you happen to be easily excitable and your partner becomes

VERY

excited…
Fully-clothed exercises you and a partner can use to practice energetic sex (and time during Day-2 to try them out, if you're a yes!)
A variety of sexual positions that can help unlock and activate and energize you and your lover's bodies during love making
Live demonstrations of advance tips and tricks that will make you smile and your partner moan regardless of whether "the twitchys" happen or not!
How to prevent energetic "burn out" or -as Reid likes to say- "How not to fry you and your partners' brains!" 🙂
Come see for yourself just

how energetic

sex can be! And begin embodying it, too!
Whether you'd like to believe that energetic sex is possible but have never felt it, have a lover that experiences "the twitchys," or it's YOU who's the one flopping around in bed wanting to learn how to harness these sexual energies, Reid's Hands-On Energetic Sex Intensive is for you.
Please remember that this workshop spans Reid's R-Rated and Rated NC-17 workshop offerings, which means no one under 18 will be admitted. Why the age cutoff? Because Day-2 of this workshop includes explicit (and, at times, quite humorous) sexual content and adult sex education. Day-1 is just as funny and frank, but it will be more R-rated. If you are not okay with frank demonstrations, sexual language, and nudity, then please refrain from attending Day-2 of this workshop and consider attending only Day-1 or one of Reid's other Rated-R or Rated-PG13 workshops. Thanks!
This is not a partner workshop. You may attend solo, but we encourage you to bring your friends, so spread the word!

Day-1 only


Both Day-1 and Day-2

Workshop participants will not have to participate. Day-1 of this workshop is designed for participants to watch, take notes, ask questions, and to learn. Day-2 is designed with voluntary, fully-clothed exercises for participants to begin exploring, embodying and anchoring the information, techniques and teachings. No participants will be getting naked during these two days.
Not sure what Energetic Sex is? Download Reid's FREE PODCAST BELOW…