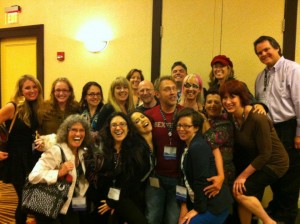 Dear Sex Geek,
I'm pleased to announce my brand-spanking new affiliate program (I said spanking), something that I'm both excited about and a tad overwhelmed about (the affiliate program, not spanking)! AND with the help of my good friend Cathy Vartuli, I'm launching a new, 6-week online eCourse, my "Relationship10x" program next week, so if you want to help me spread the word, sign up today!
Relationship10x will consist of daily, easy to start your day off with, 10-minute training videos on the communication skills and emotional I.Q. perspectives I think are essential to take any relationship not only up a notch, but ten notches. The daily, 10-min videos will be accompanied by MP3s folks can listen to on their daily commutes, homework assignments to do solo as well as together, weekly and monthly surprises and bonuses to further anchor and augment the learning.  The goal of the course is to transform your relationships ten fold in just 10-minutes a day. If you sign up, you'll get a detailed email with dates, detailed info on the program, and all the goodies in store for affiliates!
If you're new to affiliate programs and how they work, we'll be delighted to walk you through it all. It's not as scary or complicated as it can sometimes seem. Once you're all set up, Cathy and I will provide you with personalized links and possible text/wording you can edit accordingly to make your promotions a breeze. We'll make it as painless and as fun as possible. Promise!
Cathy Vartuli is my Affiliate Manager while I'm getting my affiliate program ramped up. She's done bunches of launches such as this with people waaaaay more important than me, and she's got a great bedside manner, so I think she's exactly the person to help me not botch this up! If you have a question about setting any of this up, you can contact her at: Cathy@TheIntimacyDojo.com
With your personalized affiliate links and promo copy (tweets and longer text for things like Facebook –hint, hint), you are free to share them "as is" with a simple "copy and paste," or edit your own changes/edits as you see fit.
You can learn more about affiliates here: ReidAboutSex.com/what-the-hell-is-an-affiliate-program

You can get some insights and free training on what to do and what not to do as an affiliate here: ReidAboutSex.com/sexpert-affiliate-101

And you can sign up to be an affiliate for me and Relationship10x here: ReidAboutSex.com/affiliate
How it works:
The affiliate program pays 50% for most products on my website and there is a second tier of 6.9% for affiliates who sign up under your link (the people you recommend Reid's program to who sign up to be Reid Affiliates). Basically, you promote your unique affiliate link and anyone who clicks through via your link and makes a purchase; you get 50% of that sale. Happy holidays from my website to yours! J
From Cathy: What we need if you're a yes…
You know the quality of Reid's content and his regard for extraordinary customer service, so if you'd like the option of recommending Reid's products to your followers, and, as a thank you for doing so, receive a referral fee for spreading Reid's work, all you need to set up your account is the following:
1) Your name and address
2) The email you use for PayPal payments.
If you don't have one, you can set one up at no cost in 5 minutes at PayPal.com
Note from Reid: If you have the word "sex" in your email URL like I do, since PayPal's been known to shut down accounts of a sexual nature, do what Anton Diaz advised me of doing, which is using a "safer" email addy, one without the word sex in it. I ended up using Workshops@ReidMihalko.com rather than my standard ReidAboutSex.com addy. Just sound advice.
3) Your EIN or Social Security number. Affiliate forms require this.
We strongly recommend you use an EIN Number to protect your Social Security number. You could get one at no charge, immediately, at:
sa2.www4.irs.gov/modiein/individual/index.jsp
Note from Reid: While you can use your S.S.#, do yourself a favor and set up your EIN. Cathy recommended I do it, and it only took me 4 minutes! Doh! Simple! xxR
Set up your affiliate account here:
ReidAboutSex.com/about/affiliate/
Again, if you have any questions, feel free to contact me: Cathy@TheIntimacyDojo.com
As an affiliate, you'll get access to training videos and mp3s where we'll train you on the latest and most effective ways to help people know about valuable information and let you earn commissions at the same time. If you sign up in time for Reid's launch in December, you'll also get the possibility of being invited to Reid's Affiliate Mastermind in February, which will happen in San Fran AND be webcast so none of my affiliates have to miss what's going to be a GREAT business/educational opportunity!
So help spread the word and share information, and make some dough for your pockets for the New Year!
Yours in sex geekery,
REiD