Business Before Pleasure, Unless Pleasure Is Your Business!
SFSI Seminars is proud to present:
The Business Side of Sex Ed with Reid Mihalko
Being a sex educator and making a decent living can seem at odds. Too many amazing sex-positive professionals are on the verge of financial and emotional collapse from the worry, burnout, and frustration of trying to make ends meet while sharing their calling with the world. What if you could change lives AND get paid decently for it? What if there were ways to reach more people with your message using less effort? And what if there was a learnable approach to the business of being a sex educator that would augment your strengths, make you more prolific with less stress, inspire your fans and clients, free up more time for you to relax and recharge, and help you make money without feeling "salesy," pushy, or creepy?
The good news: This is all possible, and you can do it, too! Join sex, relationship and business geek, Reid Mihalko for an informative and humorous evening where he'll show you 3 crushing mistakes most sex educators are making that leave them frustrated, burnout and broke, and the successful business models and practices that will help you turn your calling into a life-long, successful career.
When: Tuesday, July 22nd, 8-10pm
Where: Center for Sex and Culture (1349 Mission St, San Francisco)
Cost: $15 in Advance
Tickets: Get 'em asap! HERE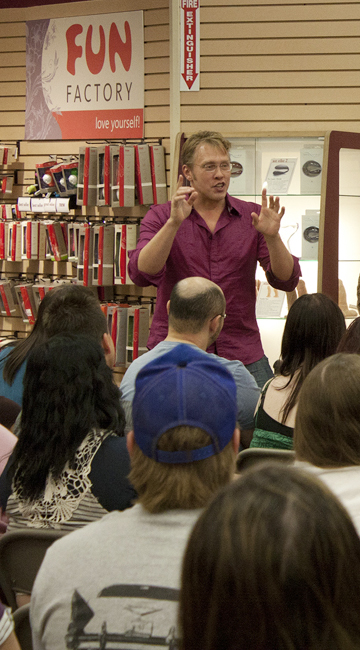 About Reid Mihalko: Sex and relationship expert Reid Mihalko of ReidAboutSex.com helps adults create more self-esteem, self-confidence and greater health in their relationships and sex lives using an inspiring mixture of humor and knowledge. Reid's workshops and college lectures have been attended by close to 40,000 men and women. He has appeared in media such as Oprah's Our America With Lisa Ling on OWN, the Emmy award-winning talk show Montel, Dr. Phil's The Doctors on CBS, Bravo's Miss Advised, Fox News, in Newsweek, Seventeen, GQ, The Washington Post, and in thirteen countries and at least seven languages.
Follow Reid on Twitter and Facebook
About SFSI Seminars: Ever wanted to learn more about how to teach or work with a certain topic, but can't find the right workshop? Sex educators, therapists, and health field professionals work with a constantly evolving body of knowledge. Join SFSI for a night of education on and exploration of a certain topic, led by a specialist in the field. Never stop learning!
Follow SFSI on Twitter and Facebook!