Get your Sex Geek on the Reid-Way!
Declare your sex geekery loud and proud with your very own American Apparel, cranberry-colored SEX GEEK tee!
Already know what you want to order…
ONLY $20 plus S/H & Tax
Need more info or convincing… Curious to find out what Discharge Ink is, or want to see our SEX GEEK tee Facebook Album? Read on…
Sizes currently available - all tees American Apparel (size chart)
        Women's S, M, L, XL
        Unisex/Men's S, M, L, XL, 2-XLs, 3-XLs

Please include your size in the comments section of your order when you order. Thx. 
(American Apparel, btw, tends to fit more snug than other shirt brands. It will also shrink a tad if you wash in hot and machine dry on high, fyi.)

Color – Cranberry only
Text - SEX GEEK on the front, ReidAboutSex.com across the bottom, back tail of the tee… Swanky!
Delivery - Please allow 2-6 weeks for delivery and PLEASE send me pics of you wearing your shirts for my Facebook album! Thx for supporting Sex Geekery!
Cost: $20 plus shipping/handling and sales tax – Please include your Tee Size in the Comments Box when ordering. Thx!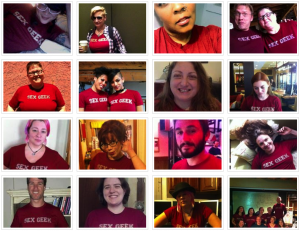 Interesting geek factoid: The ink used to make these shirts is known as Discharge Ink (I know, sounds dirty, don't it!). Discharge Ink is a heat-activated, bleach-laden ink that "discharges" the shirt's dye coloring when heated above a certain temperature. Why is Discharge Ink so cool? It's cool because, after your shirt's first washing, there's no ink left on your shirt! The SEX GEEK design is just the cloth sans it's dye, which means it'll never crack or fade ever! It's more expensive to have done this way, but totally worth it. Neat, huh!?! Why do I know this? I worked at a tee-shirt printing shop waaaaayback in my art school college to pay for tuition, so inks and dyes and making kick-ass tee-shirts is something I find quite cool. Hope you enjoy your SEX GEEK tee!