Shameless Self Promotion: Marketing 101 for Activists Panel at CatalystCon 2014! 
Got a sex-positive cause you want to promote but remain unsure how to market yourself, your group or your organization effectively? Got the passion and drive but missing the marketing degree and the communication plan?
Join me and this expert panel of sex-positive educators and activists (Charlie Glickman, Cunning Minx, Rachel Kramer Bussel) as we share marketing tips designed to help you gain credibility, generate content and promote your ideas effectively. Attendees will learn how to use basic marketing tools such as speaking, blogging, social media and ebooks to build a following and promote themselves effectively.
Date: Saturday Sept 13, 2014

Time: 9:30am-10:40am on the National Stage

Tickets: catalystcon.com/register/

Where: Westin Los Angeles Airport Hotel, 5400 West Century Blvd · Los Angeles, CA 90045
And while you're at it, come to Catalyst Con for an unbelievable weekend of brain-sex with some amazing sex geeks!
About CatalystCon: CatalystCon is a conference created to inspire exceptional conversations about sexuality. The conference mission is to reach out and stimulate attendees to create important conversations within communities and change discourse and acceptance of sexuality within society. These conversations are intended to stimulate the activist within us all and spark transformation and growth for all adults and children in one of the humanity's most important aspects; sexuality. Founder/Creator Dee Dennis regards this conference as a "melting pot of sexuality" that unites sex educators, sexologists, sex workers, sex therapists, writers, activists, sex researchers, those in the adult industry, and anyone with a passion for creating change. Knowledge is power, and sharing that knowledge is the first spark in igniting change. This is the fundamental principle behind CatalystCon.
Catalyst Talk Schedule HERE!
Speakers and Their Bios HERE!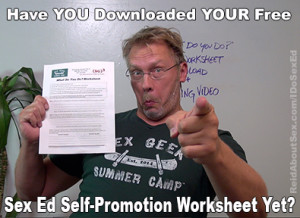 Sex Geek Squeeeeeee!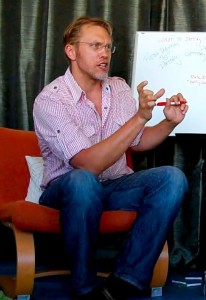 ABOUT REID: Reid Mihalko, creator of SexGeekSummerCamp.com and ReidAboutSex.com, helps sex educators get better at the business of sex ed AND helps adults create more self-esteem, self-confidence and greater health in their relationships and sex lives, no matter what their self-expression of those happen to be.
Reid has appeared on Oprah's Our America With Lisa Ling on OWN, the Emmy award-winning talk show Montel, Dr. Phil's The Doctors on CBS, Bravo's Miss Advised, Fox News, in Newsweek, Seventeen, GQ, People, Details, Marie Claire, The National Enquirer, The Washington Post, on VH1's Scott Baio is 45 and Single, Showtime's Penn & Teller's Bulls**t!, Canada's The Sex Files and SexTV, and the short-lived Life & Style, on NPR, Sirius' Maxim Radio, Playboy Radio and Cosmo Radio, and in thirteen countries and at least seven languages. To date, Reid's workshops and lectures have been attended by close to 40,000 men and women. Reid has been a featured speaker and keynote at dozens of conferences on relationships and sexuality and is a sought-after presenter and teacher at colleges and sex positive organizations across the country. Reid has also been a writer, producer and behind the scenes consultant on a number of films and television projects about sex and relationships.
Follow Reid twittering as @ReidAboutSex. Like and subscribe to his Facebook page, Facebook.com/ReidAboutSex!