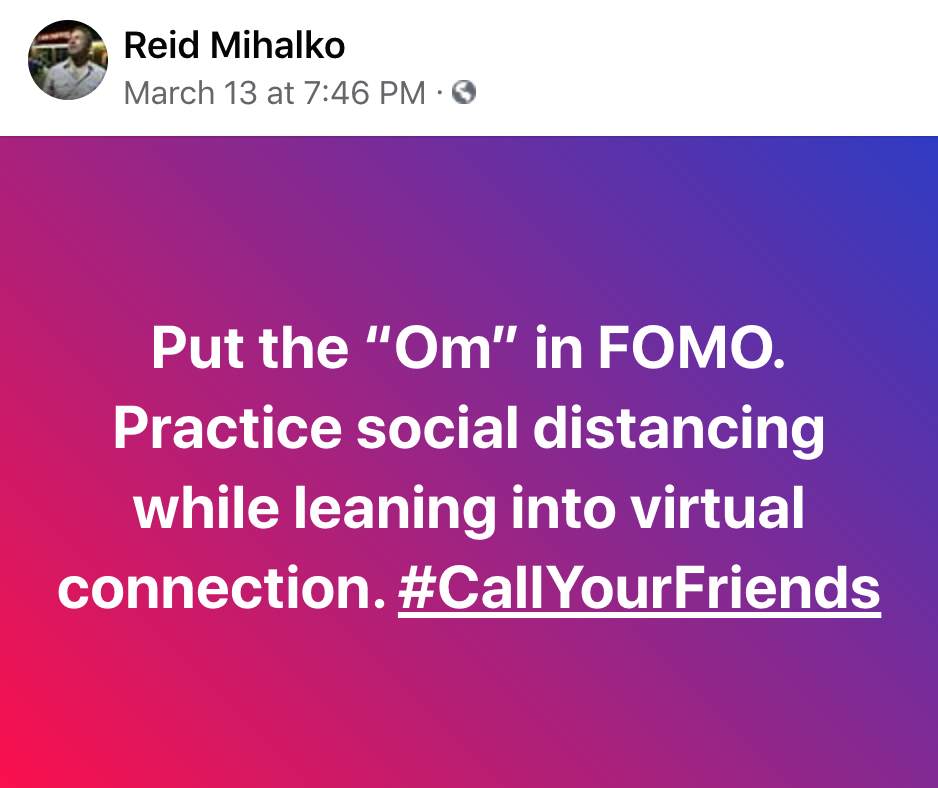 In an effort to support myself during the COVID-19 situation, and because I have nerdy/geeky tendencies towards using learning as a form of self-regulation, preparation, and empowerment… I've been looking for and finding some resources that have been HUGELY helpful to me.
It felt appropriate to collect them in one post to make it easier to access and share.
[I will add new things I find to list with an EDITED TO ADD denoting it. List placement is where I think it makes the most sense and use and not when added chronologically. I will endeavor not to add too many links as I know lists like this can be overwhelming, and, chances are, you're already (and have already) read/watched/listened to plenty. If I remove any entries for whatever reason, I'll list them at the bottom in a "Removed" section. <3 Please take care of yourself.]
I've done my best to confirm that what I'm sharing is medically accurate, psychologically sound, and will reduce harm rather than spread panic—Please endeavor to do the same!
And PLEASE try to be kind to one another. This INCLUDES BEING KIND TO YOURSELF. Inform yourself as you have the bandwidth. Trying to learn EVERYTHING in one sitting isn't healthy. We all have limits—Myself include (even though I don't want to admit it!). Everyone has their own unique struggles. And those struggles, just like my struggles, are invisible to onlookers. This pandemic won't be over in one night, so remember to pace yourself and take care.
My wish is that these resources help you and your loved ones as much as they've been helping me. Please share as you feel called to.
Lastly, if you didn't know already, I grew up in a fairly chaotic and unreliable household for a substantial chunk of my childhood… This is why I resonated with Sara Benincasa's Tweet when I saw it…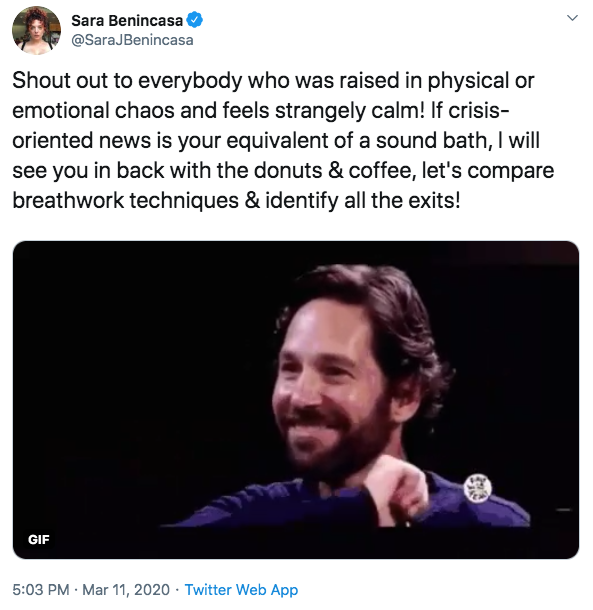 Resources…
—Resources Added in August 2020—
Podcast: Radiolab's Invisible Allies
Historical context for combating Covid-19 with Vitamin D discussed in this July 30, 2020 episode.
Podcast: Radiolab's Dispatches from 1918
I found this July 17, 2020 podcast episode covering 1918's Spanish Flu epidemic very useful for understanding pandemics a little better.
—Resources Added in March 2020—
Website: Flatten The Curve
Why this post? The "Do" list is SUPER helpful + it's being consistently updated… https://www.FlattenTheCurve.com/
Resource List: Resources to Support Your Mental Health During the COVID-19 Outbreak
[Edited to Add, 3/25/2020]
http://psychiatry.ucsf.edu/coronavirus
Facebook post: Sex Nerd Sandra's FB Post
I found Sandra Daugherty's Facebook post brief, thoughtful, grounding and filled with humanity (for those of you who have limited bandwidth for reading)… [shared with permission]
https://www.facebook.com/doctorsandra/posts/10158673602044869
Website post: How To Have Sex in The COVID-19-Coronavirus Pandemic
For all your sexy sex geeks… This post needs no explanation as to why it's important!
https://thecrankyqueer.substack.com/p/how-to-have-sex-in-the-covid-19-coronavirus
Shout out to The Cranky Queer Guide to Chronic Illness for putting that together!
Website post: Taking Care of Your Mental Health In The Face of Uncertainty
Hat tip to Damon Holzum for his Facebook post: "Good, simple advice. And… […] use the acronym STOP: Stop, Take a breath, Observe and plan, Proceed." https://afsp.org/taking-care-of-your-mental-health-in-the-face-of-uncertainty
Thank you AFSP.org for all that you do!
Webinar: Dealing with the Fear of the Unpredictable
Rick Wilkes and Cathy Vartuli of Thriving Now ~ Emotional Freedom for All put a call/webinar together… Thank you for this, Cathy & Rick!
https://www.ThrivingNow.com/dealing-with-the-fear-of-the-unpredictable
Podcast: How to Find Peace Amidst COVID-19, How to Cultivate Calm in Chaos
Found this Tim Ferriss podcast interview with Buddist mindfulness-teacher, Jack Kornfield, so VERY FULL of useful, peace-of-mind wisdom…
https://tim.blog/2020/03/12/jack-kornfield-covid19/
Article: I need you to read this and decide about Coronavirus
This article is aimed at CEOs, but I think it's really useful reading for anyone, so I'm putting it here…
https://medium.com/@phoebetickell/i-need-you-to-read-this-and-decide-about-coronavirus-6dd184745b33
Podcast: The Pleasure Mechanics' Love In the Time of Corona
I found this episode of @LearnPleasure's #pleasuremechanics podcast to be grounding, impassioned, informative, and soothing…
https://www.pleasuremechanics.com/love-in-the-time-of-corona/
Short Article: When Social Distancing Means Close Quarters
Stella Harris blog post… http://stellaharris.net/when-social-distancing-means-close-quarters
Potential Support: If you would like more focused support from me…

You can help me support you by supporting my own work…
Resources for my fellow educators, event producers, artists and entrepreneurs…
Website post: How to Protect Your Online 12 Step Meeting against Trolls, Zoom Bombers and Griefers
Great post for all virtual facilitators using Zoom right now… https://medium.com/@nanea/how-to-protect-your-online-12-step-meeting-against-trolls-zoom-bombers-and-griefers-53ffe08b529c
Website post: Things to think about as an event producer…
Hat tip to Rachel Rickards for this informative post for event producers that she shared with me on Facebook…
https://commchat.substack.com/p/communities-events-and-the-impact
Free online course: Let's Make an Online Course…
The idea of making an online course about making an online course while YOU make an online course is SO meta to me! One of the ways I self-regulate and find grounding is to merge helping others with creating things tools and courses that alleviate people's challenges… A LOT of my friends and peers get paid from organizing or performing in-person at IRL (In Real Life) LIVE events. Many had their livelihoods canceled, which inspired me to help them figure out how they can bring their brilliance to their fans and followers virtually (and, hopefully, help them make some rent money)… Are you an event planner, teacher or performer? Join us for this free "How to make an online course" training…
https://reidaboutsex.mykajabi.com/lets-make-an-online-course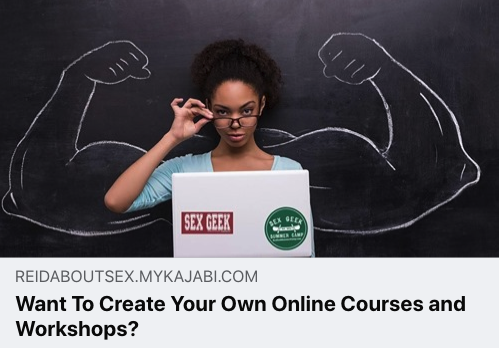 Paid 6-week business skills course for educators: Virtual Camp
If you were thinking about coming to Sex Geek Summer Camp, let CAMP come to YOU! http://ReidAboutSex.com/are-you-coming-to-virtual-camp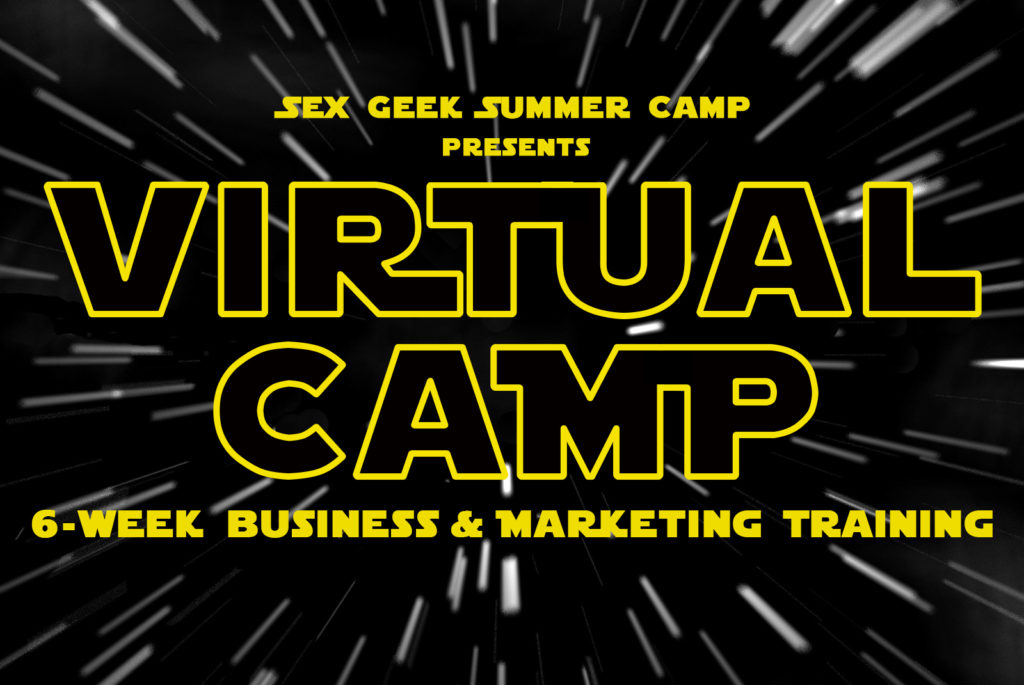 Article: I need you to read this and decide about Coronavirus
I think this article is REALLY useful reading for all event producers and workshop leaders… Please give it a read and let me know what you think!
https://medium.com/@phoebetickell/i-need-you-to-read-this-and-decide-about-coronavirus-6dd184745b33
Facebook LIVE: Social Distancing and Taking Your Events Virtual During COVID-19 with Cassandra J. Perry
Thank you for visiting this resource page. I hope this post was useful for you. If you feel inspired, please share it with your friends, communities and loved ones. And also feel free to email me – Reid (at) ReidAboutSex.com – and let me know what was useful for you or if you want to pass along other resources and recommendations.
Thank you for getting this far, and thank you for making the world a better place.