Sex Geek Summer Camp 2015 FAQ
Welcome to the official public* Sex Geek Summer Camp 2015 info page…
*We've got a private FAQ page for you once you've officially registered for camp!
Camp Registration Buttons
Below!
Scroll Down
and
REGISTER NOW
BEFORE IT'S TOO LATE!
FREQUENTLY ASKED QUESTIONS
Who's Welcome at Camp: All levels of experience – from beginner sex educators to seasoned pros. All Orientations. All Shapes, Colors and Sizes. This is a business retreat for sex-positive professionals (You're welcome to bring your business and/or romantic partner. Your non-sex-educator guests are welcome at camp, but must purchase a ticket and apply for admission. Because Camps costs are so low costs, no discounts are available). You Must Be 21 or Over by July 25, 2015, to Attend Camp. No children and no pets are allowed at Camp.
Dates: Sunday-Thursday, July 26-30th. Bonus early arrival for FREE on Saturday night, the 25th, anytime after 4pm, so you can settle in before we begin!
Cost:  $497 Camp Tuition. Tuition includes Camping/Tenting Privileges for 5-days/4-nights (camping and tenting supplies not included), 3 Meals per Day, and Access to All Camp Lectures, Take-Home Educational Materials, and Curricular/Extracurricular Activities.
Why Does Camp Tuition Seem So Low? Shouldn't It Cost More for What We're Getting? Yes. Frankly, an experience of business and community training this in-depth would normally cost $3000-$5000 easily. However, the reason camp tuition is such a steal is because Reid designed camp to be affordable and accessible to even the brokest of broke sex educators. That's less than $100 a day for meals/tenting/course materials (and S'mores)! You can't afford to miss this life-changing event! Register NOW! If you feel like camp should cost more, and you have the means… Please consider paying $1083 for camp. Reid will gladly accept your money and spend it on S'mores! If you have questions or concerns about any of this, please don't hesitate to contact Reid at Support@ReidAboutSex.com.        
Accommodation Upgrades: Accommodation Upgrades cost extra and range from entire cabin take-overs for you, your organization, and your friends, to teepee rentals, to room shares, and individual bed accommodations. The link is in the For Campers Only FAQ and will be emailed to registered campers. In addition, camping gear is available for rental from Abrams Creek Campground on a limited basis.
Arrival and Departure Times: Pre-registration arrival time on Saturday evening, July 25th, anytime after 4pm. Camp begins Sunday at 10am! Camp ends, Thursday July 30th, at 12 Noon. All campers must be off property by 12pm on Thursday July 30th. Sex Geek Bus back to Dulles Airport and Reagan Airport (Information below) leaves at 12 Noon.
Location: A retreat center 2.5 hours west of Washington, DC, and about 2.5 hours southeast of Pittsburgh, PA, in Elk Garden, West Virginia – Directions
Food and Meals: "An army travels on its stomach," as the saying goes, and we are an army of sex geeks out to change the world! 3 tasty and nutritious meals per day are included in your Camp Tuition, plus evening snacks. All meals will include vegetarian and dairy options, and non-alcoholic beverages. Breakfasts will include eggs (and often bacon). Dinners will include at least one meat option. Campers are allowed to bring their own favorite snacks as well as whatever special dietary requirements they need. Gluten free food is part of the menu. Please contact Reid or Cathy at Support@ReidAboutSex.com with special concerns and requests.
What's The Weather Going To Be Like At Camp? Camp is located in the Potomac Highlands section of West Virginia, about 2-1/2 hours west of Washington DC and 2 1/2 hours south-east of Pittsburgh. The terrain is characterized by lush mountains, year-round rivers and streams, and clear, clean mountain air. Situated just past the first crest of the Allegheny Ridge, we will be in a different weather system than most of the major cities on the East Coast. Because of this, it is never too hot where we will be; the record highs are about 90, and most summer days are in the high 70's or low 80's. Temperatures stay moderate from spring until the late fall. Rainfall is typical of the Eastern US. The area is rural, bordering on wilderness, with small urban centers with a full range of stores and services about a half-hour away. We will be surrounded by recreational areas and nature preserves; within a half-hour's drive, there are dozens of major attractions, and hundreds of smaller ones.

Click On 
The Money-Back Guarantee Seals
Below to
View Camp's Curriculum 

and


"Sales Page"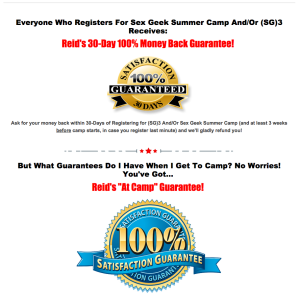 GETTING TO CAMP MADE EASY…
Transportation To and From Elk Garden:
Reid's Recommendation – Fly into Washington DC's Dulles International Airport (IAD) or Reagan International Airport (DCA) on Saturday, July 25th, by 2:15pm (Reagan) or 3:15 (Dulles) and ride the Sex Geek Summer Camp Bus (see above), chartered to depart Reagan at 3pm and Dulles at 4pm and bring you directly to camp! (Info on Sex Geek Bus tickets to and from camp below).
Sex Geek Summer Camp Bus:
Cost: $60 Round/Trip – Information and Links to purchase tickets on our chartered, luxury, Sex Geek Summer Camp Bus will be emailed to you shortly after registering and paying your camp tuition. Bus departs at 3pm from Reagan Airport (DCA) and 4pm from Dulles Airport (IAD) to Summer Camp on Saturday, July 25th • Return trip, July 30th, depart from Sex Geek Summer Camp at 12pm Noon, arriving at Dulles Airport (IAD) by 3pm, and Reagan Airport (DCA) by 4pm.
Reid's Recommendation: Fly into or arrive at Reagan Airport (DCA)on Saturday, July 25th, LANDING/ARRIVING BY 2:15pm or DC's Dulles Airport (IAD) on Saturday, July 25th, LANDING/ARRIVING BY 3:15pm. Bus departs for Camp at 3pm from Reagan and 4pm from Dulles with or without you. The Sex Geek Bus makes it's return trip to Dulles Airport and then to Reagan Airport departing Sex Geek Summer Camp on Saturday, July 25th, at Noon sharp! Squeeze a 2.5 more hours of camp networking and fun as the Sex Geek Bus safely drops you off at Dulles Airport by 3pm! Get to Reagan by 4pm. Please schedule your return flights out of Dulles for after 5pm, and out of Reagan after 6pm to account for possible traffic and your airport check-in/TSA security line time.
Again: Incoming flights on July 25th should be scheduled to arrive at Reagan by 2:15pm and at Dulles by 3:15 at the latest, since the bus will need to depart at 3:00 pm and 4:00 pm to ensure adequate daylight to setup by for those with tents. HINT: If possible, please consider scheduling a flight that arrives earlier in the day, in case your flight gets delayed flight – the Sex Geek Bus will not be able to wait for delayed flights. The return bus will depart the Campground at 12 Noon on Thursday July 30th. The return trip takes around two and a half hours, so outbound flights should not be booked before 5:00 pm out of Dulles or 6:00 pm out of Reagan, unless you love stress.
Closest Airports and Train Stop:  You are welcome to drive to camp in your own vehicle or rent a car or AMTRAK to Cumberland and take a taxi, but please consider the Dulles/Sex Geek Summer Camp Bus option 'cause you'll get to start camp early and extend camp with your fellow sex geeks on da' bus!
IAD (Dulles Airport) – 140 miles, approx. 2.5 hours

DCA (Reagan National Airport) – 156 miles

BWI (Baltimore/Washington Airport) – 181 miles

PIT (Pittsburgh Airport) – 157 miles

AMTRAK stop: Cumberland, MD (CUM) – 42 miles
Remember, camp is located 2.5 hours west of Washington, DC, and about 2.5 hours southeast of Pittsburgh, PA, in Elk Garden, West Virginia – Directions
Getting To Camp If You're Using AMTRAK
Getting to camp if you're coming from New York City/Boston/Providence/NJ might be easier and cheaper in some ways if you take AMTRAK to Union Station Washington DC (WAS) on July 25th and then get to Dulles Airport to hop on the Sex Geek Bus to camp. However, you must plan enough time and figure out how you'll get from Union Station to Dulles Airport.
For your convenience, here are some options and appropriate links…
From Union Station to Dulles Airport for the Sex Geek Bus: Most travel options from Union Station to Dulles are going to take you at least 90-mins to arrive at the airport, so take an early enough train into DC and plan accordingly if you're trying to get there in time for the Sex Geek Bus.
Super Shuttle Van Service from Union Station to Dulles Airport – It looks like scheduling a pick up at Union Station via Super Shuttle van service and have them drop you off at Dulles is your cheapest and easiest option once you get to Union Station, costing you $29 per person + $10 for every extra person you book tickets with. You can leave your flight plans blank when making ticket reservations for Super Shuttle, fyi.
Taxi from Union Station to Dulles Airport –  A taxi from Union Station to Dulles will cost you over $65 and taxis are plentiful at the AMTRAK station. Sharing a taxi with 2 or 3 people (if your luggage fits) would make that pretty cost effective.
Public transportation from Union Station to Dulles Airport – The easiest way via public transportation from Union Station to Dulles looks like taking a bus or subway (Red Line to Metro Center to switch to the Orange Line – should be less than $5). You want to get off at the Orange Line's West Falls Church and take the Washington Flyer Shuttle to Dulles ($10) – Please plan accordingly for traffic, etc.
From AMTRAK's Union Station to AMTRAK's Cumberland Station: You have to go through DC to get to Cumberland, so I advise you schedule and plan accordingly to take the Sex Geek Bus out of Dulles. If you must train to Cumberland, know that it's a 45-min drive from Cumberland MD (CUM) AMTRAK station to camp. You will have to take a taxi from Cumberland to camp.
Getting To Camp By Bus – BoltBus, MegaBus, Greyhound, etc
Use the similar links and strategies for AMTRAK to get to Dulles Airport by 4pm on July 25th for the Sex Geek Bus.
Renting a Car or Driving Yourself To Camp
Camp is located 2.5 hours west of Washington, DC, and about 2.5 hours southeast of Pittsburgh, PA, in Elk Garden, West Virginia – Directions. There is plenty of parking at camp, so just concentrate on getting there safe, and we'll see you at camp!
Learning While Playing Format*: Interactive Lectures, Group Exercises, Hilarious Demonstrations and Audience Participation, Special Interest Break-Out Sessions, Special Guests, Plenty of Q&A, Meal Breaks, Free Time to frolic and decompress and swim in the creek, Talent Show, Sing-Alongs, S'mores! And Much, Much MORE!
What Should I Pack and Bring to Camp? A packing suggestion list will be emailed to you shortly after you register and pay your camp tuition.
Accommodation Upgrade Fees: Camp Accommodation Upgrade Fees and info at top of page! Be one of the first 80 campers to reserve your spot by paying your full tuition below and get guaranteed upgrade availability!
*Always check with a tax professional: Many times business education and networking is tax deductible. FYI, Reid is not a tax or business attorney, nor does he play one on TV (Though he did play a cowboy in a Salt 'N Pepa video once. And that's a fact.).
**Please Note:There will be a lot of sitting in chairs/backjacks/picnic benches and note taking during the Sex Geek Summer Camp. We will have an ASL Interpreter available if requested and accessible seating areas for those who need it, but the retreat center is in a very rural setting. Questions, Concerns about accessibility? Email Reid at Support@ReidAboutSex.com
---
What We're About… Sex Geek Summer Camp and the online Sex Geeks' School For Gifted Sex Geeks are comprehensive training programs for sex educators and sex-positive professionals to upgrade and master skills in business, marketing, facilitation/presentation, curriculum design, and branding. We train workshop leaders, sexuality and relationship coaches, sex therapists and counselors, authors and sex bloggers, podcasters, vloggers and filmmakers, and online trainers/educators in the business of monetizing their sex education advice from an entrepreneurial perspective. 
EARNINGS DISCLAIMER We don't believe in get rich quick programs. We believe in shortening learning curves, sharing successful skill sets and tactics, smartly applied hard work, clear communication, accurate health information, integrity, and serving others by adding value. The intention of our educational programs are to up your abilities as an educator, increase your professionalism, and teach you how you can share your message with a larger audience. Why? So you can make a difference in the world WHILE growing your business. As stipulated by law, we can not and do not make any guarantees about your ability to get results or earn any money with the ideas, information, tools, techniques and strategies covered in our programs. We don't know you and, besides, the results you generate in your life are up to you. Agreed? We just want to help shorten your learning curve by delivering smart, high-quality content, direction and strategies that catapult you forward in your career. Understand that nothing on this page or any of our websites is a promise or guarantee of results or future earnings, nor do we offer any tax, medical, legal or other professional advice. Any results, claims or financial numbers referenced here, or on any of our sites, are simply estimates or projections, or actual events that occurred, and should NOT be considered as a promise (exact or actual) of potential results or earnings you will experience in your business – all numbers are illustrative only. We share this information in the service of clear communication and managing your expectations going in. To access more information on all of our terms, privacy policies and disclaimers for this program(s) and website, click the link below! The paragraph you're reading right now and what the link leads to is all the regular legal mumbo jumbo that a good business professional and communicator shares not just because transparency is important and we hold ourselves (and you) to a high standard of integrity, but -as we will teach you in our programs- it's also required by law.