Taking the woo-woo out of all those ancient (and juicy) lovemaking techniques…
Do you wish there was more than just the hump, grunt and grind of conventional sex? Ever feel like your lover (or yourself) was cursed with only one color to paint your sexual landscape with?
Don't get us wrong, we know sex -even mediocre sex- can be lots of fun, but do you ever wish you had a wider palette of techniques and experiences to draw from?
Perhaps you've heard of Tantra and remember reading somewhere (last month's Cosmo?) something about "expanded orgasms," but think that kind of stuff is only for people like Sting, yoga instructors or porn stars.
Maybe you've had ecstatic experiences in the bedroom that boarder on spiritual, but they're so far and few between that you can hardly recall (and maybe it was just the booze…).
Perhaps you've read a book on the Kama Sutra or talked to someone about sacred sexuality, but it was too "woo-woo" and new age-y for your sensibilities…
What if we told you mind blowing, ecstatic sex was not only possible, but learnable and didn't have to set off your "new age" alarms?
What if we told you that conventional sex is like arts and crafts' class with a box of crayons that only holds eight colors? What if we told you there is a box of crayons with 64 colors AND a sharpener!… And it can be yours to color your world with (and that you don't have to stay inside the lines)!
Join sex and relationship educator Reid Mihalko for a fun, light-hearted romp into the world of sacred sexuality. Explore enhanced lovemaking techniques, communication skills helpful for deepening intimacy, and breathing techniques to increase your arousal and sexual stamina in this workshop designed for anyone curious about Tantra, bettering their relationships, and having fun in the bedroom.
In this 2-hour, pragmatic, informative (and humorous) workshop, you will be introduced to:
Tantra and sacred sex basics
What the heck is energetic sex, how it "works" and why so many of us never figure it out
Breathing techniques that you can use to access new areas of sensation and body awareness
Kissing as the "gateway drug" to higher states of ecstatic sex!
Simple exercises and pressure points you can practice alone and with a partner that will kick off your energetic sexual journey
A few advance tips and tricks that are sure to make you smile and your partner moan!
DATE: Wednesday, September, 20th, 2017
TIME: 8-10pm
LOCATION: The Pleasure Chest-Upper East Side, 1150 2nd Ave, New York, NY  10065
EVENT INFO: HERE!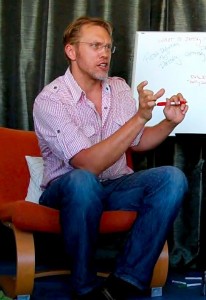 ABOUT REID: America's favorite sex geek, Reid Mihalko of ReidAboutSex.com and Relationship10x.com helps adults and college students create more self-esteem, self-confidence and greater health in their relationships and sex lives using an inspiring mixture of humor, keen insight, and comprehensive sexual health information.
Reid frequently speaks at colleges and universities on sexual assault prevention and healthy relationship skills, and regularly appears in the media sharing his views on consent, dating, and shame-free sexuality.
Reid's workshops and college lectures have been attended by close to 50,000 men and women. He has appeared in media such as Oprah's Our America With Lisa Ling on OWN, the Emmy award-winning talk show Montel, Dr. Phil's The Doctors on CBS, Bravo's Miss Advised, Fox News, in Newsweek, Seventeen, GQ, The Washington Post, and in thirteen countries and at least seven languages.
Reid is also founder of Sex Geek Summer Camp and Sex Geek School for Gifted Sex Geeks which help sex educators learn valuable business skills that allow them to reach more people, transform move lives, and make a better living as sexperts.
Follow Reid on Twitter and Facebook and YouTube.