Battle shame, jealousy, blame and more, and get your cuddle on with Reid while you're at it!
Loving More® is pleased to announce we're bringing sex and relationship expert Reid Mihalko to Colorado for the Loving More Loving Choices Seminar, the one day relationship seminar focused on relationship choices and polyamory!
Beyond Monogamy:
Exploring Relationship Alternatives
Polyamory Relationship Seminar

April 23, 2011
Join Reid, Friday evening, April 22nd from 7:00pm – 11:00pm for a super cuddly Cuddle Party, facilitated by the founder himself!
Saturday April 23rd is a full-day, chock-full of learn'!
Saturday night, join us for the wrap party, restaurant celebration!

Cost for the day: Only $49!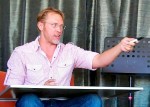 What Reid will be covering…
Healing Sexual Shame By Asking For What You Want
Have you ever been too ashamed to ask for something you wanted? Can you remember a time in your life when you felt embarrassed or shameful for something that felt good? For many of us, feelings of shame (or trying to avoid them) keep us from asking for and experiencing things that we want, and we feel powerless to change things. The great news is you don't have to let shame stop you anymore and don't need to be "shameless" to get what you want in your relationships.
You will learn:
The emotional tools and approaches Reid uses to deal with his own sexual shame
How to "track" your shame and have it lead you to breakthroughs in your relationships
Communication tools and strategies to have you asking for what you want in your love life, the bedroom and beyond!
This is a clothes-on, participation-optional workshop. Group exercises are not mandatory. Voyeurism is participation! And you are free to change your mind at any time. Exercises will include practicing asking for what we want sexually and witnessing it together as a catalyst for accessing our shame and working through it through by revealing it.
Battling the Eight-Armed Octopus of Jealousy!
When it comes to jealousy, many of us are left feeling like superstitious sailors who whisper of an almighty leviathan that will inevitably come for us. And when the Green-Eyed Monster rises from our emotional depths, we usually find ourselves powerless to stop it's many arms from tearing our relationship-world apart. Join sex and relationship educator Reid Mihalko for an informative and humorous class designed to help you tackle the ugly, eight-tentacled octopus of jealousy!
In this class, you will:
Learn how to distinguish Envy, Possessiveness, Anger, Depression, and Jealousy's four other arms.
Gain valuable tools for dealing with each arm, especially when it's your partner(s) who is being attacked!
Discover what the corresponding qualities are for each arm and how to use them to bring down the beast.
Dramatically decrease your feelings of dread and anxiety around jealousy, and lessen Jealousy's grip on those you care about.
Walk away with a practical understanding of how to hack and chop this giant sea-monster into something more manageable, and begin making Jealousy your pet. If you'd given up on dealing with jealousy or resigned yourself to a life of powerlessness, please join us for what is sure to be an insightful and extremely useful journey into the uncharted seas of being empowered around Jealousy!
Other topics to be covered…
Relationships Choices Polyamory 101 with Robyn Trask and Jesus Garcia
Every Day Intimacy with Suzann Robins
What Does Polyamory Look Like? with Mim Chapman, PhD
Love, Sex, Intimacy and Compassionate Communication… An Experiential Workshop with Paul Sterling of freerelationshipreport.com
Dance, Touch, Play:  Contact Improvisation in Relationship with Victor and Elena
Polyamory from a Minority Perspective with Jesus Garcia
Awakening our Sensuality with Claudia Lanigan HighTouchHealing.com
No Blame:  Using "The Work of Byron Katie" for Peace in Your Relationships" with Stacy Clark
Writing Alternative Relationship Stories for Mainstream Publishing with Rex, Kasi, Gena
Connecting through the Mandala; Sacred Sexuality for the Polyamorous with Robyn Trask
To Register and Read the Complete Course Description CLICK HERE!