You can't count on your clients and students to know their needs and boundaries. Master setting the tone!

For those of us who consider ourselves sex-positive professionals, especially those of us who lead workshops or teach one-on-one session work, part of our job is role modeling great boundary setting, skillful negotiation, and compassionate communication with our participants.
For those of us whose "work" falls outside the box of convention and culturally approved vocations, it can be hard for us to figure out what our professional (and personal) boundaries might be. And for those of us whose activism and calling have us pushing the envelope of sex and intimacy, exploring where no one has gone before, sometimes we don't know what our boundaries are until they've been crossed.
No matter what your line of work or offerings are, if you don't know what works for you, how to communicate that well, and how to handle your own emotions, you could be in for some major trouble….
If you haven't a clue what your boundaries are, if you "kinda know 'em" but could use some more clarity, or if you know them but don't know how to put them into words, the good news is: There are ways to figure all this out and hone your communication skills compasionately!
This 5-hour, interactive workday will elevate your professional as well as personal relationship life!
Join sex and relationship expert Reid Mihalko of ReidAboutSex.com for a humorous, pragmatic,  and frank day of diving deep into the world of boundary setting and negotiation made simple! Learn black belt relationship communication skills that will elevate your business as well as your personal relationship life!
Date: Saturday, March 26th, 2011
Time: Noon – 5pm
Location: Phoenix' School of 1, 2728 North 24th Street, Phoenix, AZ 85008
Phone: 602-956-0651
Cost: $100



In this 5-hour intensive, we will dive deep and you will learn:
Ways to get your practice into alignment with your self-expression as a sex-positive professional

How to orient and calibrate your "internal compass" so you can navigate the emotional complexities of your work and know when a boundary is being crossed

How to map out effective and healthy boundaries and agreements for your work

and your personal life

!

Exercises for role modeling black belt level communication that will make negotiating agreements AND getting your boundaries honored and needs met a breeze!


Ways you can powerfully speak up when a boundary is crossed and how to reestablish it without destroying your relationships

Tools for handling your own emotional upset and those of your students and personal relationships

Reid's own personal tips, tricks and best practices for professional boundaries so that your life can be lived to it's fullest!
Setting the tone and role modeling great boundary and communication skills is one of the quickest ways to elevate your professional life and make your world and work more fun and freeing and decrease burn-out! For your sake and for the sake of your students, join us!"

~Reid Mihalko, sex and relationship expert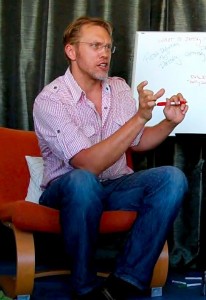 ABOUT REID: Reid Mihalko of ReidAboutSex.com helps adults create more self-esteem, self-confidence and greater health in their relationships and sex lives, no matter what their self-expression of those happen to be.
From his rated-PG/PG-13 workshops (Cuddle Party, Speed-Flirting) to the rated-R (Iron Slut Sex Educator Showdown) to his explicit, NC-17 rated, Show-N-Tell sex education workshops (where audiences get to watch, take notes, and ask questions), Reid's workshops have been attended by close to 30,000 individuals from myriad walks of life, orientations, relationship styles, countries and religions. Known for his charisma, wit and emphasis on integrity, Reid travels the country teaching, coaching, consulting and collaborating on fulfilling his mission: Create more self-esteem, self-confidence and health for adults in and out of the bedroom.
Reid has been a featured speaker at dozens of conferences on relationships and sexuality and is a sought-after presenter and teacher at colleges and sex positive stores across the country.
Reid has been a writer and producer on a number of films and television projects about sex and relationships, and appears regularly in the media. He has also appeared on the Emmy award-winning talk show Montel, Fox News, VH1's Scott Baio is 45 and Single, Showtime's Penn & Teller's Bulls**t!, Canada's The Sex Files and SexTV, and the short-lived Life & Style, on NPR, Sirius' Maxim Radio and Cosmo Radio, and in Marie Claire, GQ, Details, People, Newsweek and The National Enquirer, as well as media across the globe in thirteen countries and at least seven languages.
Follow Reid twittering as @ReidAboutSex.