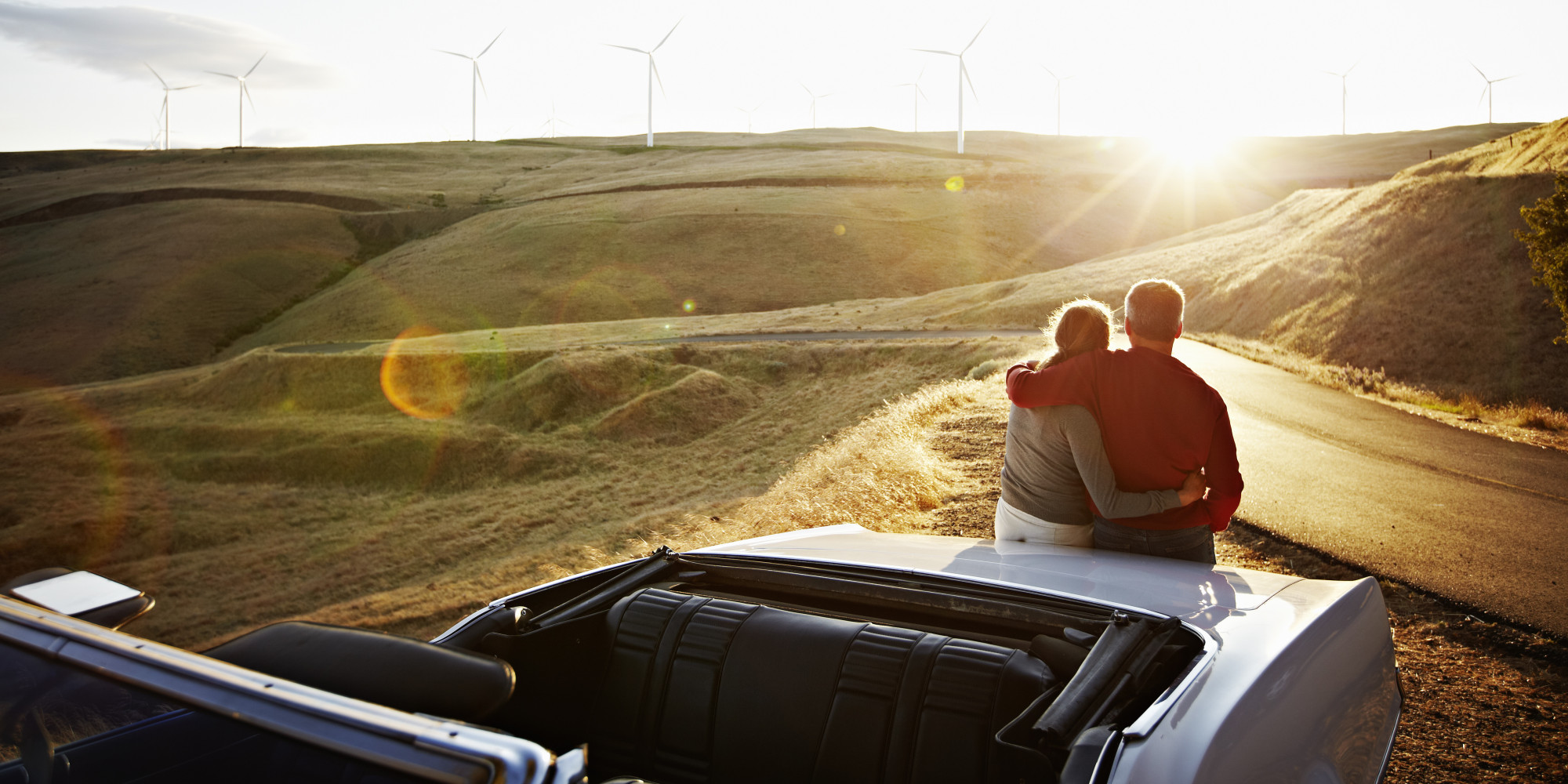 Indie Author Road Trip (Day 11): Last video from the road from Charlotte, NC, to Los Angeles, CA!
After missing two days of vlogging because Reid was working the XBiZ Expo in Los Angeles and Allison was writing the 2nd installment of Lunatic Fringe, her paranormal romance, lesbian werewolves series… Reid and Allie conclude their impromptu, cross country, road trip vlog as Allie drives Reid to LAX so he can fly to Dallas, TX, and Allie can head North to Oakland, CA. They thank many people and announce the Sex Geek Sex Toy Review Brunch for Reid's upcoming birthday!
Reid: Alright. Ladies and gentlemen. I know it seems like we're going really fast.
Allison: We are moving on a break next speed for the 4 or 5.
Reid: And the 4 or 5 means, los angels ladies and gentlemen, city of Los Angeles
Allison: Here in my old home town. I do missed it a little bit. But not right now.
Reid: Yeah. Its traffic and Allie's get me to the airport.
Allison: Because this is the last day of the Indie Author Road Trip/Sex Geek Road Trip. I know we've been a little bit lazy on giving you videos mostly because we've actually been having a great time with friends.
Reid: And working.
Allison: And working.
Reid: I was at the XBiZ Expo the adult toy, novelties and sex toys and stuff, laundry expo here in Los Angeles where I was judging a little contest or emceeing a contest for them.
Allison: It was great. You did a wonderful job. You met some really awesome people, I met some really awesome people as well and went to the XBiZ Awards which was lots of fun.
Reid: It was tons of fun and heart loss there. Our friend Jamye Waxman.
Allison: Larry Flynt. No you didn't meet Larry.
Reid:  Larry Flynt. We did not meet Larry.
Allison: Although I heard he was in a golden wheelchair.
Reid: Really?
Allison: Yeah.
Reid: Wow. There you go.
Allison: Some folks from Good vibes, our dear friends from Good vibes up in the Bay Area. Some good friends from the Pleasure Chest in Los Angeles.
Reid: From Spartacus.
Allison: Spartacus.
Reid: That Spartacus sat on our table and quite hilarious.
Allison: Very fun [inaudible 00:01:28] people from Portland.
Reid: Spartacus…. Fun factory, El Dorado [inaudible 00:01:36]
Allison: Rodeo.
Reid: Rodeo.
Allison: I got a really exciting harness from Rodeo, I can't wait to try it. So that's going to be fun.
Reid: What else do we, I know we're forgetting. Sex nerd Sandra was at the show. Oh goodness.
Allison: All sorts of fun people.
Reid: Yeah. Gram from Fleshbot.
Allison: Gram Ponante from Fleshbot,  Jamye Waxman.
Reid: Jamye, I already said Jamye.
Allison: Oh, you said. Barbie Davenport.
Reid: Barbie Davenport was there.
Allison: Yeah. It was a good crew and some lovely porn people that I didn't have the chance to meet but [inaudible 00:02:10] was there. Skin Diamond, James Deen.
Reid: Yeah. The [inaudible 2:16] founders in XBiZ who brought me in to my little spill and I did some smooching and in our trunk is tons of, we'll actually 2000 pounds but lots of sex toys for my upcoming birthday, January 28 which we decided we're going to the sex geek's sex toy review brunch for my birthday so.
Allison: So, if you're a sex blogger and you have toys that you've been needing to review but you haven't done it yet.
Reid: Guess what. We're going to do it and we're going to have the [inaudible 00:02:51].
Allison: So email Reid@ReidAboutSex.com and let him know that you're in the area and you want to..
Reid: In the Bay Area.
Allison: In the Bay Area.
Reid: The weekend of the 28th, January 28th.
Allison: Which is your birthday.
Reid: Which is and I turn 44.
Allison: You're not excited?
Reid: It's crazy. This whole year I thought I was 42 and Allison kindly and compassionately corrected me.
Allison: Well I just did some Math.
Reid: Yeah. It was your idea apparently. My shoulder shilling up fairly, nicely, it's still ouchy and then I had some good meetings to get some sponsorship deals for some stuff for my sex geek cheek challenge college tour as well as all the other things I'm doing with this year, Pleasure Chest and [inaudible 00:03:35] is coming up.
Allison: Bawdy Storytelling in San Diego which both of us will be telling at.
Reid: Yeah. [Inaudible 00:03:42] is coming up as well and well there will be a San Francisco show. What story are you going to tell?
Allison: I don't know. Probably a new one. Maybe my Los Angeles one. My big sunset strip story. It is a very dirty story. It's probably one of my favorites.
Reid: Can you give us a little teaser? What was it involved?
Allison: A lot of bad things. Kind of all the things that Los Angeles is known for on the vice side of things. All smooched together including one very hot camera man and some very interesting people at the hotel room at Mondrian. So there you go.
Reid: I don't even know if I know that story.
Allison: I think you know the story.
Reid: Mondrian?
Allison: Yeah.
Reid: Okay, well. I'll be there.
Allison: It's okay. It's a long story but it's a very Los Angeles story.
Reid: Okay. What else can we talk about? Just selling books today?
Allison: No, but I sold some t-shirts yesterday and I…
Reid: Which ones, the Eat, Fuck, Howl?
Allison: Yeah the Eat, Fuck, Howl and I confirmed a couple of dates in Portland in April so I'll be in Portland in April and I'm also in negotiations with Victoria, British Columbia also in April so if you're anywhere in Vancouver or Victoria or Seattle or Portland, I'm coming to you.
Reid: Or know somebody who is.
Allison: Or know somebody who is who'd like to bring me and I'm going to teach to colleges, I'm going to teach to LGBT groups and to bookstore readings so yeah, give me an email I'm at Moon@TalesOfThePack.com and you can get all, you can contact me there and let me know if you'd be willing to post me I'd love to meet folks up in the Pacific Northwest and bring my lesbian werewolf book to you.
Reid: I'm opening up the yell sex week apparently on the midnight show geek off and that happens in the couple of weeks and I'm also going to be in Vegas for the AVN porn awards and I'm going to be doing some sex education for the fans of the porn stars and understanding female arousal and orgasm and that'll be fun. I haven't quite titled it yet but let me know, put some comments down or email me and let me know what you think I should title a class for porn geeks for fancy porn stars on how to…
Allison: How about make your cum like a porn star?
Reid: Oh, well.
Allison: Look at that.
Reid: Don't leave a comments I think we have it but if you think you can beat how to cum like a porn star, make your cum like a porn star. If you think you can beat it, give me the name and I'll give you a shout out somewhere. This has been a really good tour. We do this again.
Allison: Yeah, we did have another fight.
Reid: Oh my God, we had a horrible fight. Oh, it's horrible. I was sitting in the bath tub in the hotel room and Allie was sitting in the bathroom floor and it was just horrible.
Allison: It was really bad.
Reid: It's like 2:30 in the morning.
Allison: Oh yeah.
Reid: It was bad. Well, we'll have to do another road trip and talk about that.
Allison: But honey, thank you for going out on this trip with me. It was been, I mean I was so certainly surprised of how wonderful it was.
Reid: Let's kiss, let's kiss before the light turns green. Keep it chased. They might be children watching.
Allison: I hope not.
Reid: So thank you for following us. This is been awesome. This is the last, this concludes.
Allison: This concludes the Indie Author Road Trip/Sex Geek Road Trip unless you record something on you own when you're on the plane. No, I want to record something separately. I'm driving to Oakland today. He's flying way to Dallas tonight, we're definitely enjoying the last couple of moments that we have together in the car
Reid: With you.
Allison: With you, the viewer.
Reid: The viewer. So, signing off from almost from LAX. It's Reid Mihalko from http://www.ReidAboutSex.com.
Allison: I'm Allison Moon from http://www.LesbianWerewolves.com / http://www.TalesOfThePack.com.
Reid: Let's see what radio gives us. Thank you for watching.