Battling the 8-Armed Octopus of Jealousy!
4-Call Podclass + Worbook on Overcoming Jealousy by Understanding
and Taming Your Emotional Monsters
with Reid Mihalko
Four 90-minute Teleclasses Recordings,
Weekly Jealousy Homework Assignments, PLUS
Your very own downloadable Jealousy Workbook AND Cheat Sheet!
When it comes to jealousy, many of us are left feeling like superstitious sailors who whisper of an almighty leviathan that will inevitably come for us. And when the Green-Eyed Monster rises from our emotional depths, we usually find ourselves powerless to stop it's many arms from tearing our relationship-world apart.  Join sex and relationship educator Reid Mihalko for his latest informative and humorous teleclass designed to help you tackle the ugly, eight-tentacled octopus of jealousy!
Begin to Beat Jealousy from the Comfort of Your Own Home or Office!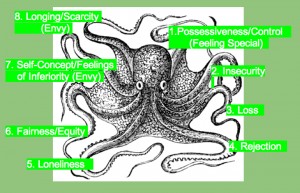 In this 4-call podclass program with downloadable workbook AND cheat sheet, designed as a follow-up to Reid's Day of Jealousy event, Reid will guide you through ideas, discussions and homework assignments designed to bring you into deep connection with your emotions and give you the tools to not only mitigate your jealousy, but tame it!
In this unique teleclass, you will learn…
Where your jealousy comes from and why we're using an octopus as a metaphor
How to distinguish Envy, Possessiveness, Anger, Depression, and Jealousy's four other arms
Valuable tools for dealing with each arm, especially when it's your partner who is being attacked!
Tools for mitigating your "jealousy triggers"
What the corresponding qualities are for each arm of jealousy and how to use them them to bring down the beast
To dramatically decrease your feelings of dread and anxiety around jealousy, and lessen Jealousy's grip on those you care about
Ways to communicate to your loved ones how they can make your world a less jealous one
Boundary and negotiation skills for improving your relationships no matter what emotions you're experiencing!
If you'd given up on dealing with jealousy or resigned yourself to a life of powerlessness, please join us for what is sure to be an insightful and extremely useful journey into the uncharted seas of being empowered around Jealousy!
Stop fearing your emotions! Learn how to Navigate your feelings with more ease! Begin the Journey to Conquering your Jealousy Today!
No need to travel to a distant city for a workshop!
Just Download and Listen and Learn!
Podclass Course Fee: Only $97
Register by Clicking the Button Above

Questions? Email Reid at Support@ReidAboutSex.com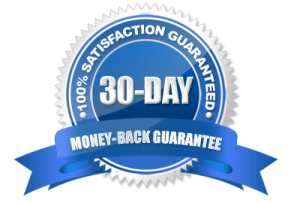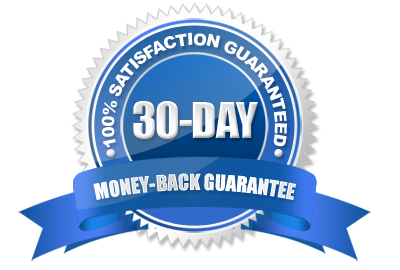 Reid's full, 100% money-back guarantee if you aren't completely satisfied!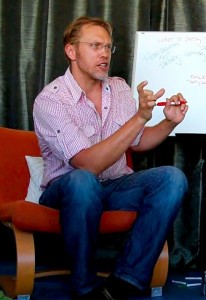 ABOUT REID: Sex and relationship educator Reid Mihalko of ReidAboutSex.com teaches adults how to create more self-esteem, self-confidence and greater health and satisfaction in and out of the bedroom.
Using humor, insight and solid information, Reid appeals to audiences of all orientations, backgrounds, ages and identities. He's one of the only male sex and relationship experts touring the country today who can speak pragmatically to nearly all areas of sexual self-expression, intimacy, dating and relating. Reid's mission is to give men and women new tools to transform their love lives into fulfilling, satisfying, and sustainable expressions of self.
Reid is a sought after speaker who lectures at colleges across the country and has presented and keynoted at dozens of conferences on relationships and sexuality. The workshops he's designed continue to be taught all over the world and have been attended by over 40,000 people. Reid has appeared on CBS' The Doctors, Oprah's Our America with Lisa Ling on OWN, Bravo's Miss Advised, the Emmy award-winning talk show Montel, Fox News, VH1, Showtime'sPenn & Teller's Bulls**t!, on NPR, Sirius' Maxim Radio and Cosmo Radio, and in Marie Claire, GQ, Details, Seventeen, People, Newsweek, The Washington Post and The National Enquirer, as well as media across the globe in twenty-seven countries and at least fourteen languages.
Reid has also been a writer and producer on a number of films and television projects about sex and relationships and consults regularly behind the scenes with producers and writers as an expert on subjects ranging from infidelity and sex addiction to dating and marriage, from jealousy and non-monogamy to gender dynamics and sexual tips and tricks.
Follow Reid twittering as @ReidAboutSex and LIKE Reid on Facebook!